Insurance brokers: how to boost sales and retention | Insurance Business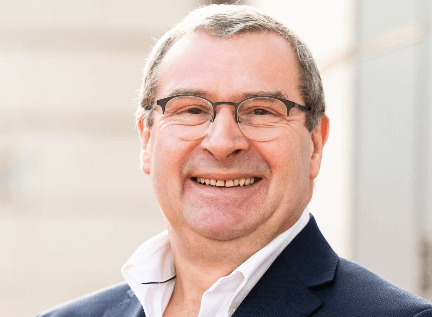 The following is an opinion piece written by Geoff Land, MD at Infinity CCS. The views expressed within the article are not necessarily reflective of those of Insurance Business.
To protect market share and profitability from the growing threats of disintermediation, new competitors, increased regulations, evolving customer expectations, and digital disruption, insurance brokers and agents need to own more of the customer relationship and compete on service rather than price.
With a forecast of 4% annual revenue growth everything might look rosy for the insurance broker market. However, established brokers are facing increasing competition from new entrants, disruptors like price comparison websites and aggregator platforms, and also from insurance companies selling directly to customers.
The fact is that digital communications technologies are making it easier to provide on a mass scale the kind of personalised, advice-focussed service that is the broker's major USP.
At the same time as opening the market to new competition, digital disruption also plays a role in commoditising products and services. After all, if most players have access to roughly the same market and risk data, are selling to the same customers who have similar problems, and are under the same regulatory regime, their products are likely to converge.
This can make it difficult for established companies with nothing new or exciting to bring to the table to stand out. Business as usual is always good enough for a time, until suddenly it isn't.
While established brokers and agents can play on the trust they have built up over the years with customers and can also count on simple inertia to stop their customers from leaving too quickly, without some means of differentiation it will become necessary to compete on price and erode margins.
Specialise, advise, and disrupt
To combat both disintermediation and commoditisation, insurance brokers can differentiate themselves from their competitors (both new and old) by becoming specialists who focus on solving one or two (preferably big and important) problems for clients.
While this inevitably shrinks the size of the market they can sell to, positioning themselves as experts in a particular field can enable them to become a leader in that space and convert more prospects into customers.
While products might be getting more commoditised, customers' lives and businesses are getting more complex, which means there is a growing demand for expert advice that helps them make sense of at least some parts of them.
Insurance brokers should be expanding their advisory and risk management services, along with the portfolio of insurance products they are able to offer, to be in a position to design personalised insurance solutions to meet clients' exact needs and budgets.
Delivering all the above through modern digital channels in a way that meets customers' evolving expectations of how they interact with companies is what we will look at next.
The digital innovation opportunity
Recent research into digital innovation in the insurance broker market conducted by the British Insurance Brokers' Association (BIBA) suggests that right now, there exists a huge opportunity for forward-thinking brokers to take a lead on the competition with even minimal smart investment in the right technology.
Forty per cent (40%) of brokers believe the sector has not embraced innovation very well, 44% think software houses supplying the industry are to blame for not having done enough to innovate, while 77% said cost innovation was the main barrier.
It is true that brokers face several barriers to delivering digital innovation, including disjointed customer service capabilities across different channels, the incompatibility of legacy systems, the siloing of product and customer data in different systems, and the difficulty of integrating with insurance company partners' systems.
Even if vendors of insurance broker software are not keeping up, there do exist off-the-shelf and customisable technologies that enable brokers to offer new services and improve the efficiency of their current business models.
At the heart of it all sits the agent desktop and workflow
One of the major issues with delivering digital customer experience is that frontline personnel simply do not have access to the necessary tools.
The place to bring together all the data and systems that human agents need to seamlessly manage interactions across multiple channels is in their desktop application, which provides them with a single user interface for almost anything they need to be able to do.
Here is what the ideal insurance broker digital customer experience environment might look like from an agent's point of view: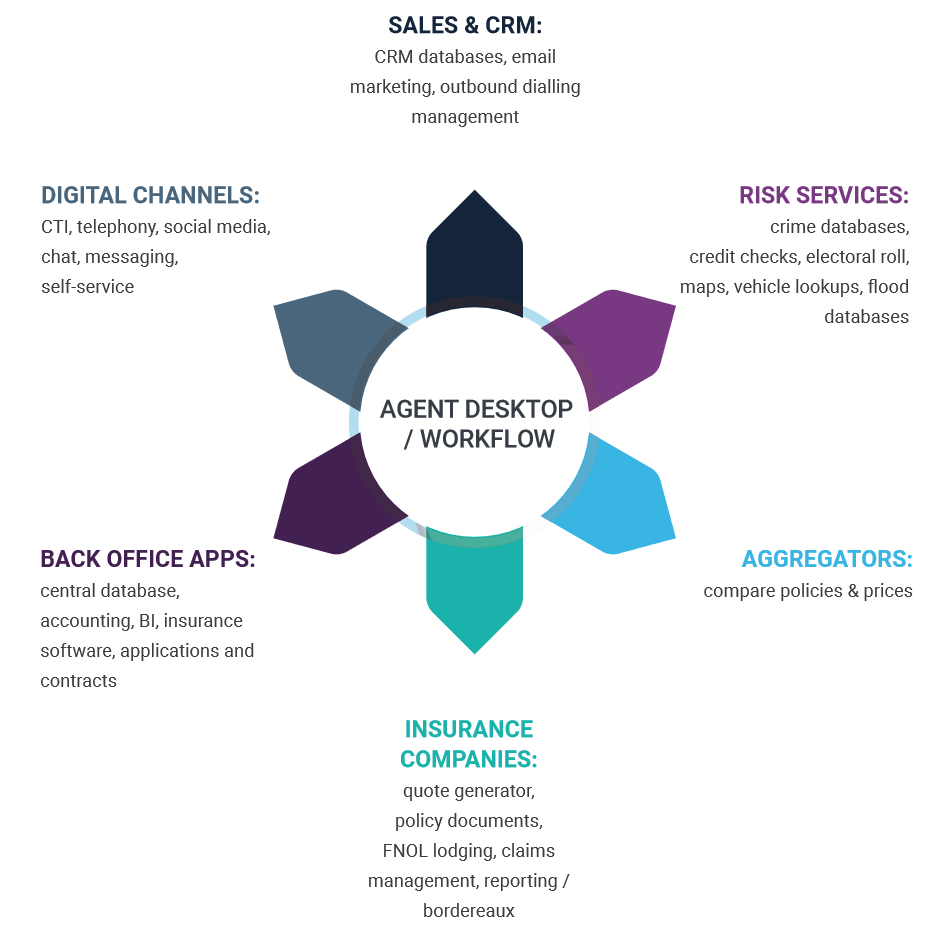 All applications used in fulfilling the broker's various business processes are integrated with the agent desktop and workflow software. This means that, using a single interface, agents can generate quotes, manage documentation, follow up and close sales, set appointments, make cold calls, manage the onboarding process, chase up renewals – using whatever digital channel they like and with all customer and product data at their fingertips.
Departmental and channel siloes are eliminated as data is made available in the desktop regardless of where it is stored. Legacy systems are also given a new lease of life and are able to work with one another, with new digital channels like chat and instant messaging, and with external systems like those of the broker's insurance partners.