The importance of wellbeing in modern corporate culture | Insurance Business UK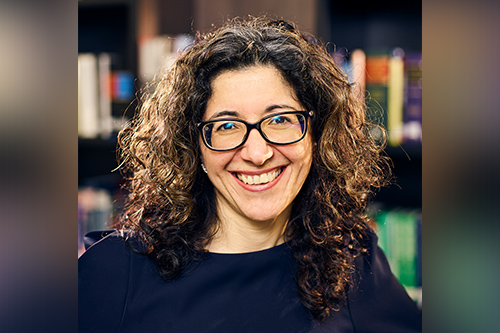 The following is a contributed piece from Tali Shlomo (pictured), of the Chartered Insurance Institute.
Wellbeing will have different meanings to different people. I would define wellbeing as a person's level of health, comfort, and happiness, the conditions under which we are enabled to be at our best and most authentic self. Ten years ago, wellbeing was rarely spoken about in the workplace, and if we did it was with a certain trepidation. Many of us are aware of the impact that our wellbeing has on our interaction with our colleagues, clients, family members and friends. These issues no longer carry the taboo status they once did, now it is more widely accepted we all have a role to play in voicing and addressing them. Recognising this in our workplace environment creates a catalyst to evolve our strategies as part of our inclusive workplace culture.
Many organisations are benefiting in multiple ways from implementing a wellbeing programme as they result in positive organisational outcomes, such as increased employee morale and engagement, a healthier and more inclusive culture, and fewer instances of absence. This has a clear impact on a company's level of engagement and productivity.
There are many approaches an organisation can take to support and embed wellbeing programmes at work. It has been gratifying to notice over recent years a change in workplace culture which increasingly recognises the importance of maintaining high levels of mental and emotional wellbeing. There are three overarching pillars to wellbeing: physical, mental, and emotional. This is important to remember as we can easily forget the impact our physical health and wellness has on our overall wellbeing.
Starting a conversation about mental health in the workplace is an important first step to removing the stigma, tackling the myths, and paving a clear route to seeking help and advice. Mental health is now rightly recognised as part of wellbeing and there is increased focus within organisations and firms. But it remains a priority, as a first step, to break down the stigma which remains around mental health. One in four people will suffer with mental ill health in their lifetime. Therefore, we need to understand that if it does not affect us personally, we are likely to know someone who will be impacted. The stakes are high, even before mentioning that as many as 300,000 people lose their jobs each year as a consequence of mental ill health. And so, it is important to clearly articulate our commitments to our colleagues and clients who might be experiencing mental ill health, emphasising that support is available and that there should be no fear of a negative impact as a result of seeking support. More broadly, in opening the discussion, a business can endorse a broader understanding of mental health, which will bring with it a greater degree of compassion, something which has come to be seen as a key pillar of modern company culture.
As the adage states: "Healthy body, healthy mind" works both ways. An employer who cares about the umbrella of "Wellbeing" should also factor physical health into their considerations. The benefits of a healthy workforce are manifold. Healthy employees are more engaged and motivated. Physical health encompasses everything from weight to fitness and nutrition. According to the national statistics by the Health and Safety Executive, more than 28.8 million working days were lost in 2018 to ill health, so the need to address this speaks for itself; thinking about the physical health of our colleagues makes good business sense.
As we continue to evolve our workplace culture, introducing physical wellness strategies to support our colleagues is a vital component. Physical health often has a significant impact on mental and emotional health. For example, according to a study conducted by the University of South Australia and University of Exeter in 2018, for every 4.7-point increase in BMI, the risk of experiencing mental ill health leaps by an average of 18%. Similarly, our physical condition can often be an indicator of our mental health, such as consistent severe headaches, stomach pain, or a weaker immune system, to name a few, all being well recognised as potential symptoms of stress.
There are many initiatives which an organisation can support in their drive to help preventing illness and in promoting good health among colleagues; it begins with workplace culture. For example, the days of presenteeism are over; emphasis is now rightly on productivity, within the confines of reasonable expectations. As such, short regular breaks during the working day, as well as leaving the office on time should be not only acceptable but encouraged. Regular breaks reduce the impact of "decision fatigue" and enables the ability to refocus on tasks and continue to produce consistently good quality work. Implementing new strategies, for example the introduction of walking meetings can be easily adopted in any working environment.
Companies can even encourage their colleagues to take part in more vigorous exercise. For example, many companies, including the CII, endorse initiatives such as a cycle to work scheme which enables our colleagues to invest in a bicycle by offering a zero-interest loan. At the CII we support colleagues to make use of available meeting rooms for exercise, such as a weekly yoga class, and more recently we have launched a "Fit Bit Fitness Challenge", whereby we will provide a Fit Bit so that colleagues can monitor their activity, with rewards being won by those who reach certain targets, while also fundraising for charity. This has already received enthusiastic uptake among our colleagues and acts as a real testament that wellbeing in the workplace not only supports engagement but likewise, there is the appetite to engage in wellbeing itself.
A wellbeing programme doesn't need to be complex to be highly impactful. So next time you review your diversity and inclusion strategy consider how your wellbeing programme can take centre stage as we unlock the talent in our organisation by creating a culture where colleagues can bring their whole authentic self to work.
Tali Shlomo biography
I have seen first-hand how the role of human resources has evolved in the last quarter of a century.
After completing a degree in corporate finance, I began my career in what was then known as 'personnel.' Back then, personnel was viewed as a transactional function, but has since evolved into a commercial one which emphasises the importance of enabling organisations to succeed by enabling its people to achieve their full potential.
Early in my career, I became aware of the challenges a colleague of mine was experiencing with their mental health and overall wellbeing. This first poignant encounter was some 20 years ago, and it was clear to me then that intervention was required as part of the holistic people strategy, but recognition and support was not available back then because of the stigma associated with mental health. It was this early experience, along with my belief that everybody should be able to achieve their own full potential, which guided my commitments to health and wellbeing as part of the people strategy vital to what evolved into my HR function.
HR is now responsible for unlocking the full potential of human capital and creating a workplace culture where colleagues can thrive. As people engagement director of the Chartered Insurance Institute I keep up to date with ideas about how to support individuals develop their talents. To do this, I maintain active and engaged conversations with stakeholders from our profession and more broadly, while also maintaining my own personal professional development.
Today HR is no longer just about training and developing skills it is about creating a diverse and inclusive workplace culture. I have been fortunate to lead with delivering a diversity and inclusion programme for the Chartered Insurance Institute. This programme has delivered equalised and enhanced family policies, an inclusive leadership programme, and a wellbeing programme, to name a few. This work resulted in the CII retaining our Investors in People Gold accreditation, a national standard for achieving business goals through employee learning, development, and communication.
The CII has also improved its recognition with Stonewall. The CII took part in a benchmarking exercise which focuses on how inclusive workplace practices are to the LGBT+ community. These are important accomplishments for the CII and has real and impactful effects on every individual at the organisation.
As people engagement director of the CII I also recognise the importance of leading by example. The CII works with others in the insurance profession to ensure we engage, partner, and collaborate to evolve into a diverse and varied sector. We aim to lead on the gender pay gap and ethnicity pay gap.
The range of social consciousness continues to keep growing, such as with the emergence of the broadest ever inter-generational workforce, and a greater focus on inclusion in the workplace. This, along with emerging technology and the importance of digitalisation is creating new sets of challenges and opportunities for HR. The most important purpose of my role is creating an environment where everyone feels valued, safe and able to thrive.
I have always described people as the heart and lungs of a business. If we skip a beat, the rhythm of our output is impacted, and if we miss a breath, the quality of our output is impacted. So, when I am asked the question of why I am driven to create a workplace culture underpinned with wellbeing, diversity, and inclusion, I answer with my own question: "How can our business grow and thrive without people?"