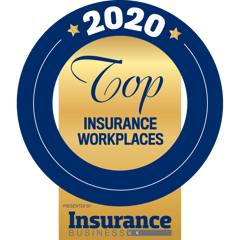 What makes an insurance workplace great? There are several elements that seem to be consistent among the very best, including a commitment to employee development and a healthy work-life balance. However, these basic tenets must be considered alongside a variety of more arbitrary factors to create a holistic picture of what it means to be a truly outstanding workplace.
Who better to decide what makes a workplace exceptional than those who work there? With this in mind, Insurance Business UK reached out to the insurance professionals building careers in a range of companies across the UK and asked them to rate their employers' performance on everything from compensation and benefits to diversity, employee development and culture.
In addition to being asked to rate their organisation on a scale of 1 (poor) to 5 (excellent) in each category, employees were also given an opportunity to share their employers' most effective and attractive initiatives, from volunteering opportunities to strong mentorship programmes and flexible working hours.
METHODOLOGY
The process to become a Top Insurance Workplace encompassed two phases. In the first phase, IBUK invited organisations to fill out an employer form, asking them to explain their various offerings and practices.
In the second phase, employees from nominated companies were asked to fill out an anonymous survey evaluating their workplace on several metrics, including benefits, compensation, culture, employee development and more.
To be considered, each organisation had to reach a minimum number of employee responses based on overall size. Only organisations that achieved an 80% or greater average satisfaction rating from employees were named a Top Insurance Workplace.
The following companies achieved an average satisfaction rating of 80% or greater from their employees.
TAPOLY
Headquarters: London, UK
Year founded: 2016
Score: 97.1%
MOVO INVESTMENT GROUP
Headquarters: Orpington, UK
Year founded: 2016
Score: 92.1%
CYTORA
Headquarters: London, UK
Year founded: 2012
Score: 87.3%
AVENTUS
Headquarters: London, UK
Year founded: 2020
Score: 85.6%
E2E TOTAL LOSS VEHICLE MANAGEMENT
Headquarters: Darlington, UK
Year founded: 1985
Score: 82.4%
LOCKYER COMMERCIAL
Headquarters: Wakefield, UK
Year founded: 1981
Score: 80.0%
CFC UNDERWRITING
Headquarters: London, UK
Year founded: 1993
Score: 84.3%
TH MARCH GROUP
Headquarters: London, UK
Year founded: 1887
Score: 82.7%
CLEAR INSURANCE MANAGEMENT
Headquarters: London, UK
Year founded: 2001
Score: 80.9%
QUESTGATES
Headquarters: Birmingham, UK
Year founded: 2003
Score: 80.0%