Brokers endorse digital proof of insurance solution | Insurance Business America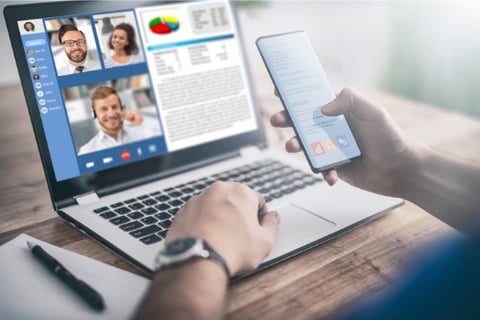 There's one key challenge that businesses in all industries face: being able to quickly and accurately verify insurance coverage. When businesses work together, there's often a lot of friction when it comes to sharing and validating data, especially at the start of a business relationship. Paper chains often grow long and complex, key information is missed, and errors (and sometimes fraud) can creep in.
Resolving this long-standing issue would add tremendous value to insurance brokers, buyers, providers, lenders, vendors and a host of others who rely on the trustworthy transfer of information to fulfil partnership obligations. TrustLayer, an insurtech platform that allows companies to automatically share and track the insurance coverage of their vendors, has set out to eliminate this friction. The firm uses artificial intelligence (AI) and robotic process automation (RPA) to automate the verification of insurance, licenses, and other compliance documents required in business partnerships.
Read next: Pandemic ushers in a brand new world for claims
TrustLayer recently announced a collaboration with The Institutes RiskStream Collaborative, the risk management and insurance industry's largest enterprise-level blockchain consortium, and several key consortium members, including Liberty Mutual Insurance and Nationwide Insurance, to create a proof of concept (POC) for the insurance industry's first certificate of insurance verification solution. The consortium hopes that TrustLayer's RPA technology, when blended with RiskStream's Canopy distributed-ledger network, will transform the complicated and inefficient process of insurance verification into a fully integrated and streamlined process.
"Our digital proof of insurance has the potential to revolutionize the insurance industry, as users will be able to securely share and verify coverage in seconds," said TrustLayer founder and CEO John Fohr. "At the moment, the process of insurance coverage validation is exceedingly manual and paper intensive. But we've built a platform that automates the current paper-based workflow, using AI and RPA to identify documents - such as certificates of insurance, articles of incorporation, OSHA documents, etc. – extract key information and then compare that information against contractual requirements."
This multi-purpose digital verification platform has garnered great interest from the insurance brokerage community because it enables brokers to provide value-added risk consulting services in a digital manner.
TrustLayer was a member of the inaugural BrokerTech Ventures (BTV) accelerator, a broker-led investor group and accelerator program, designed to build the next generation of technology solutions for insurance agencies and brokers. In February, the firm announced the completion of a $6.6 million seed round of financing, in which 20 of the top 100 insurance agencies in the United States participated, including Holmes Murphy, Heffernan, M3, NFP and Graham Company.
Read more: Riskbook rebrands, launches new reinsurance platform
On the surface, providing digital proof of insurance and verification of key documentation sounds like an easy problem to solve, Fohr admitted, but there are agency and ownership issues at play. Each key stakeholder – insurance carriers, brokers, insureds, risk managers, certificate holders - has their own motivations behind what information they're willing to share, how they want to share it, and how they're willing to engage with it. That's the challenge that Fohr has been focused on in the development of TrustLayer: building something that satisfies the needs of all key stakeholders.
Carriers, for example, have been historically reluctant to share their proprietary data and policyholder information. It's understandable, given that's what they use to differentiate themselves in the market. But with TrustLayer, they're able to keep their data siloed, private and behind their firewalls, while at the same time providing verification that a party has coverage. Furthermore, enabling carriers to prove insurance in real time helps them to accelerate their business transactions, while also decreasing loss ratios due to fraud and manual errors.
"Risk managers don't just want a tool that only does insurance. TrustLayer's very first customer asked: 'If you're also going to reach out to all my [clients] to track their insurance, can you also get a W-9 and articles of incorporation? What about passport verification and OSHA documentation?' Our platform is able to handle additional documents to meet the needs of the risk managers," Fohr told Insurance Business. "For the insured, the platform has to be really easy for them to use and understand. They're not going to be insurance experts; they just want something quick and easy that can verify their documentation.
"And for brokers, the platform adds value by enabling them to provide additional risk management services. That will not only help them to make additional revenue, but they're also going to build a better relationship with their clients because they can offer more services that customers want and need."
Leverage your digital tools and learn more about digital strategies for the insurance industry in this webinar from EZLynx