Mosaic brings intern program to international offices | Insurance Business America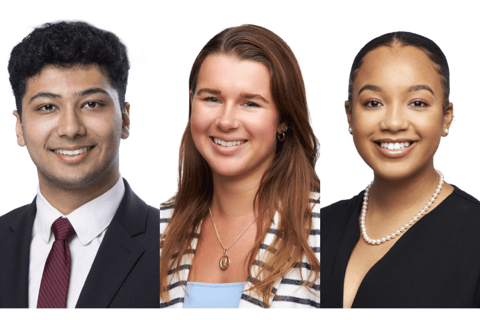 Mosaic Insurance has expanded its summer intern program to include students at its Bermuda, New York, and London offices.
For the second year of the program, Mosaic brought in three interns to work with various teams. Skyler Powell, 20, is at the Bermuda headquarters working as a communications, marketing and special projects intern. Avid Kuray, 18, is with the political violence and cyber underwriting divisions in New York City. McKenzie-Kohl Tuckett, 18, works with the claims team at the London office.
"We're thrilled to be able to engage these three very talented students in the work we do as a growing global insurance start-up," said Lisa Fontanetta, chief of staff at Mosaic. "Not only are they getting an immersion in their respective fields of focus, but they're also networking with team members across different regions of the world, contributing to our unique culture as we grow, and hopefully gaining valuable insights they can use in their future careers."
Powell is a Bermudian senior at Rollins College, Florida. She is set to graduate next spring with a Bachelor of Arts in communications with a concentration in public relations, as well as a minor in social entrepreneurship. At Mosaic, she has been attending strategy meetings, shadowing underwriters, and curating content for the company's website and social media channels. She also conducts research and drafts statements and policy initiatives for diversity, equity, and inclusion (DEI) and environmental, social, and governance (ESG) strategies.
"Working in Bermuda for Mosaic's communications & marketing division, with access to the leadership team, underwriters, and members of the finance team has been an extraordinary opportunity—the culture here is unmatched," said Powell. "Being an intern at a brand-new company has also allowed me amazing opportunities, including the chance to contribute to policy work and other in-depth content. It is very rewarding."
Kuray is a sophomore majoring in International Affairs at George Washington University, Washington, DC. In Mosaic's Manhattan office, he supports the political violence and cyber divisions by researching domestic and international security threats and assisting underwriters with data using industry pricing tool. He also prepares reports on various geopolitical issues relevant to the company's specialty lines.
"Mosaic's work in political violence aligns with my interests in global security," said Kuray. "In my course at the Elliot School of International Affairs, we focus on analyzing implications of various conflict zones across the world. It's amazing to learn about the intersection of this and how the Lloyd's syndicated markets operate."
Tuckett recently completed her first year of law school at the University of Bristol, UK, and will join Mosaic's London office later this summer to shadow and work with the claims team, as well as participate in an interactive virtual program led by company's UK law firm, RPC. She was the company's first intern in Bermuda in 2021.
"I am thrilled to have the opportunity to work with the Mosaic family again, in a new location with different team members," Tuckett said. "I'm also grateful to RPC for the chance to meet colleagues and engage with their virtual program. I know both experiences will help give me the insights I need to choose my future career path."