"Business turned on its head": HBF on COVID-19 pandemic | Insurance Business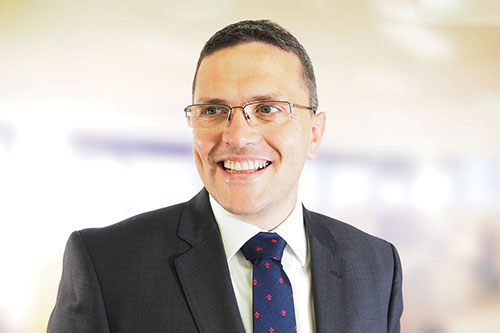 The COVID-19 pandemic has taken the insurance world by surprise, but one executive says his organisation is well prepared to support and protect its consumers as well as health workers. While challenges remain prevalent for the industry, the government's support has enabled insurers to navigate problems that have surfaced.
"HBF is exceptionally well-capitalised and we're confident in our ability to see out this crisis and help our members get through to the other side," said Adam Stock (pictured), executive general manager of governance and risk at HBF.
"We've cancelled this year's premium increase, instead of deferred it as most other funds have done. Our intent is to appropriately use our strong balance sheet to support our members in these testing times."
According to Stock, HBF is well-positioned as a key part of the health "ecosystem", enabling the organisation to support frontline health workers, such as nurses, doctors and hospitals.
"As a key part of the health ecosystem, health insurers like HBF know that we must work with other major players to address both the health and financial impacts of the COVID-19 pandemic," Stock said.
"More than ever, we see ourselves as a key partner and enabler for hospitals, doctors and nurses."
But the operational changes brought about by the pandemic haven't come without their challenges. Stock says while the disruption has seen greater support for hospitals by private health insurers (PHI's), there has still been considerable compromises to be made for health businesses.
"Of course, business as usual has been turned on its head with the cancellation of most elective surgery, the pausing of many general services like dentists, opticians and physios," he added.
"We've moved rapidly to change our fund rules to enable members to claim for various services that will now be delivered differently, for example, through the use of telehealth."
In addition to operational changes and surgery cancellations, other issues lie ahead for health services, including the financial compromise on premium revenue and the significant "catch-up" for surgeries.
"We expect claims to drop because of the lockdown but know there will be a big catch-up for elective surgery and general services once the crisis eases. Premium revenue will also be impacted by the terrible toll COVID-19 has taken on the finances of many of our members.
"Like other funds, we are putting in place premium relief packages to tide them over until they get back on their feet. We know this won't be cheap, but we pride ourselves on 'being there for members in the moments that matter'," Stock continued
But perhaps the biggest challenge for insurers is the "unknown", whereby business circumstances are changing at such a rapid pace that PHI's are vulnerable to external shocks. A surge in psychological claims resulting from the pandemic may also be on the horizon.
"Health insurers aren't used to seeing huge fluctuations in claims and premium income because we aren't usually subject to the sort of external shocks that impact other insurers," Stock revealed.
"Claims patterns will be wildly different from previous years and a lot is unknown. We may well see a surge in psychology claims as a result of the trauma of this pandemic, for example."
However, with the support from the federal and state governments, the public health sector, PHI's and APRA, Stock says the industry has been able to develop a resilience through collaborative problem-solving.
"There's a wonderful spirit of cooperation between Government, the public health sector and private providers and it's resulted in a determination to problem-solve together for the health of all Australians," Stock said.
"In particular, we are in regular dialogue with both the Department of Health and our principle regulator (APRA) who are closely monitoring the potential impacts of COVID-19 on our business both from a member and operational perspective."
APRA's suspension of public consultations, actions to finalise revisions to the prudential framework and, finally, the interaction from Stock's APRA supervision team who understands the challenges they face, has also helped HBF, alongside the rest of the industry, combat COVID-19 impacts.
Another measure introduced by the federal government, the $1,500 wage subsidy for employers, has also helped PHI's support their customers. However, Stock is adamant that HBF is not in need of this support.
"The wage subsidy will be vital for the many members we know who would otherwise find themselves is a dire financial position. Our sound financial position and the need to step up our services to meet the urgent needs of our members means the jobs of our employees are secure today without the need to draw on the government financial relief packages," he said.
However, Stock says more can be done to help PHI's – he claims that even before the COVID-19 pandemic, health insurance affordability was a major concern. But now, during the health crisis brought on by the novel coronavirus, it's an even more urgent issue to address.
"Affordability for health insurance was a major concern before the COVID-19 crisis. Now it's an even more urgent issue," Stock admits
"It's never been more important to combat the increases in health expenditure which put pressure on health insurance premiums. Beyond the current crisis this will be an important area for the industry to continue to work through with government to ensure the sustainability of the health system for all participants."