Intercharge boss lifts lid on meat processing industry risks | Insurance Business Australia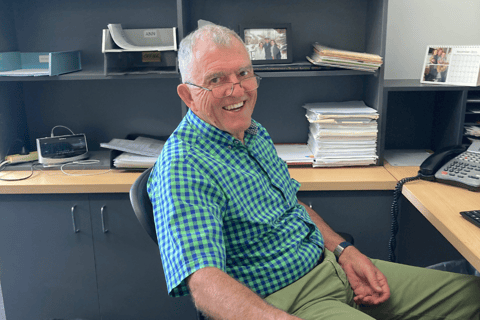 Neville Cartwright (pictured), managing director of Sydney brokerage Intercharge, recently sold a 50% stake in his firm to Melbourne based broker McLardy McShane. The McLardy acquisition took effect in November and pleases Cartwright for a number of reasons.
"I can continue to work in the business for as long as I want really, but the older you get you never know what's around the corner," he said. "So, I had to have that exit strategy in place."
He can also devote some time to his long neglected favourite hobby: skiing. He might even plan some winter holidays beyond that.
"The snow driving will be good as a snow activity for me when I can't ski anymore," he said.
"The Italian Alps have snow driving from time to time but mainly it's further north in Sweden and places like that where they have plenty of flat land."
Read more: McLardy McShane acquires stake in Intercharge
For the last four decades, Cartwright, together with his co-director and wife Ann, have built a boutique brokerage that has retained, according to their website, 90% of its founding clients.
Another bonus for McLardy McShane in this new partnership could be a specialty area that's a focus for Intercharge: meat processing.
Intercharge offers insurance products to operators who slaughter, bone, freeze, can, preserve, and pack meat. The industry also includes businesses that manufacture meat from abattoir by-products and render lard or tallow.
"They ship the cattle to the abattoirs for slaughter and they either go out as meat cuts or they sell the byproducts: the blood and the hide and hooves, that type of thing," he said. "They have what's called a renderer on site and they'll basically cook that stuff and it's used in different products, tallow and that type of thing."
Cartwright said they build a program for meat processors based on the risks they identify in the business and also the risk the processor sees themselves.
"Their risks are basically to third parties," he explained.
He said of their more serious risks, albeit a rare one, is poisoning claims.
"Meat processors can inherit exposures because they're buying cattle through cattle sales and if the cattle happen to have been fed some sort of product or eaten some product that's full of poison they could become involved in a claim themselves," he said.
Cartwright said if a consumer eats the poisoned product and becomes sick, the liability can include the meat processor.
"They'll want to know when the cow became ill," he explained. "Did it happen in the abattoir? Did it happen in the paddock? Or did it happen during shipping? This type of thing. The courts have got to decide where that happened."
Cartwright said other risks he'd discuss with a meat processor could include the transport of cattle and the shipping of frozen or chilled meats.
"They also have assets where they slaughter cattle and those particular places, abattoirs, are usually made out of a highly flammable product and if it catches fire they usually burn down within a few minutes," he said.
The highly flammable product is expanded polystyrene - much like the combustible cladding on buildings around Australia that has led to millions of dollars worth of claims in recent years.
"It's highly toxic as well," he noted. "It's not good stuff."
Read next: Recent fires spark rising insurance cost for meat processors
The insurance he provides for meat processors can also cover the more conventional business liabilities like motor vehicles and cyber threats.
He said improved industry standards have helped to reduce the risk of claims.
"The cattle are very well screened from when they're born, and you can follow them right through the process so there shouldn't be any claims," he noted. "But there's always a risk of those sorts of things happening."
When there are claims they tend to involve the meat packaging.
"The sort of claims that we've seen are usually when the packaging that's around the meat has been polluted in some way and that's damaged the meat and the meat gets rejected," he said.
He added that this could occur when a shipment of Australian frozen meat arrives in the United States. The meat may have passed inspection when it left Australia but something may have happened en route – a temperature change on the boat, for example – and when it arrives in the US, it's rejected.
He said, rather than claims, the main challenge for meat processors is the fluctuating cost of their stock.
"It varies wildly and goes up and down with the weather and it's very hard for them to predict," he said. "Cattle, a year or so ago, were probably in the hundreds of dollars and now they cost in the thousands of dollars, so that's probably their biggest challenge."