I lost my iPhone inside a cow | Insurance Business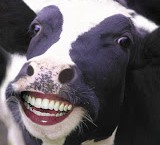 Ever have a claim for a lost cell phone – lost up a cow's backside? Here are a few stories of cell phones that were stolen, broken and baked.
A farmer in Devon, England put in a claim for an iPhone he says disappeared up one of his cows when he'd been using the flashlight function to help during calving. The phone eventually was "returned", but it was too damaged to use again.
For companies like Desjardins Visa, lost and damaged cell phones happen all the time – although they may not all have weird explanations attached to them.
"Desjardins understands that people will lose or damage their cell phones, especially students," says Martin Paquet, the product director of credit cards with Desjardins Visa. "That is why we offer free cell phone insurance on the VISA Desjardins For Students Only card."
Desjardins offers its cellular phone insurance where the Just For Students card is offered, in Quebec, Ontario, Manitoba, New Brunswick and British Columbia.
As for the British farmer who lost his phone up bossy's behind, he made top spot in the UK's list of 10 ridiculous claims, compiled by MobileInsurance.co.uk.
The remaining Top 10 claims are as follows:
2. A woman from Nottingham baked her Nokia 6303i into her daughter's birthday cake – but it didn't survive the heat from the oven.
3. A woman claimed she'd been walking her dog when a seagull swooped down and took her Samsung Galaxy from her hand.
4. A woman from Bristol claimed the vibration function on her BlackBerry Bold 9900 phone stopped working when she used it as a sex toy.
5. A builder said his iPhone 4 fell out of his back pocket while he was in the bathroom. He only realized it had fallen out after he had flushed.
6. A man claimed his HTC One X was snatched by a monkey at a local safari park.
7. A couple re-enacting the "I'm the king of the world" scene from Titanic on a cruise ship dropped their phone overboard while trying to take a photograph of themselves.
8. A pyrotechnician accidentally left his iPhone 3GS within the "blast zone" at a fireworks competition in Plymouth.
9. A woman from Liverpool threw her HTC Desire X at her cheating boyfriend. Blame poor aim on this one – as it missed him and hit the wall instead.
10. A man dropped his phone from halfway up a tree while trying to film a Blur concert in London's Hyde Park.