Marsh reveals three leadership appointments | Insurance Business Canada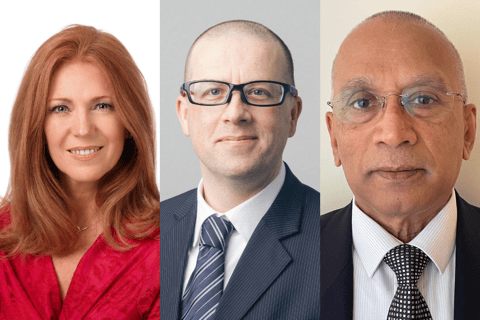 Global insurance broker Marsh has announced new leadership appointments within Marsh Captive Solutions.
Effective Feb. 1, Lorraine Stack (pictured above left), currently serving as international consulting and sales leader, will assume the additional role of leader of Marsh Capital Solutions' Ireland operations. Stack will be based in Dublin and will report to Ellen Charnley, president of Marsh Captive Solutions.
In her new role, which is pending regulatory approval, Stack will lead a team managing single parent captives and special-purpose vehicles domiciled in Dublin, as well as leading the international consulting and business development team. Stack has more than 25 years of industry experience. She succeeds Brian McDonagh, who is retiring from Marsh after 27 years.
Stuart Herbert, (pictured above centre) currently Marsh Captive Solutions Asia Pacific leader, has been appointed to the new role of international captive consulting practice leader, effective Jan. 1. He will report to Stack. In his new role, Herbert will lead a team responsible for captive feasibility studies and strategic reviews for current and prospective captive owners.
Herbert has held a variety of roles since joining Marsh Captive Solutions in 1998. For his new role, he will relocate from Singapore to the UK. Herbert succeeds Stephen Hawkes, who is retiring after 29 years with Marsh.
Nisala Weerasooriya (pictured above right) will succeed Herbert as leader of Marsh Captive Solutions' Asia Pacific operations. Weerasooriya's new role includes oversight of captive offices in Singapore, Australia, and Labuan in Malaysia.
Weerasooriya has more than 30 years of experience at Marsh. He currently serves as head of Marsh Captive Solutions' New York operations. For his new role, Weerasooriya will relocate to Singapore and report to William Thomas-Ferrand, leader of Marsh Captive Solutions, International.
"Throughout their careers, Lorraine, Stuart and Nisala have demonstrated exemplary leadership and unwavering dedication in supporting our captive insurance clients," Charnley said. "In this time of unprecedented captive growth, their considerable experience will be invaluable as we seek to provide enhanced services and resources to our clients."
The promotions are the latest appointments at Marsh. Last month, the company tapped Paul Knowles as global head of private equity and M&A and Michael Kolodner as global renewable energy leader for Marsh Specialty.
Have something to say about this story? Let us know in the comments below.