Maritimes' largest independent gets larger | Insurance Business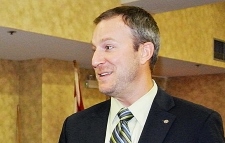 One of the Maritimes' largest independently-owned insurance brokerages today announced the purchase of Halifax's Basin Insurance.
"Basin is a great addition to Archway Insurance," says Michael Stack, vice president of Archway Insurance. "The management and employees have done a wonderful job of caring for clients and growing this metro office over the past five and half decades."
Although management will change hands on January 1, Stack says it will be business as usual for employees and clients at Basin Insurance, and the Bedford Highway location will remain.
"The aspect of this new partnership which I find most reassuring is that Basin's family of customers will continue to be serviced by an independently owned, local insurance brokerage," says Robert Knapp, president of Basin. "In fact, our customers will be able to access an even wider selection of rates and services through Archway's expanded network, which includes most of Canada's leading insurers."
The acquisition of Basin brings the total number of Archway locations to 10, from Yarmouth, N.S. to Miramichi, N.B. Over the past decade, Archway has purchased 16 brokerages across Nova Scotia and New Brunswick, quietly amassing a substantial presence and market share. (continued.)