Former army reserve goes 'above and beyond' to conquer insurance challenges | Insurance Business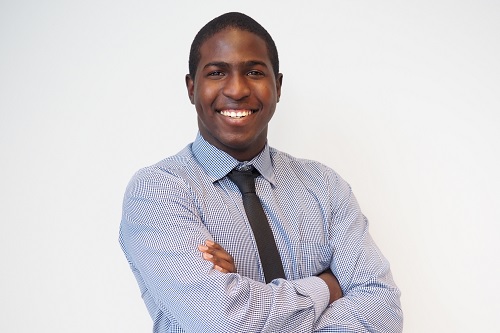 Behind every successful insurance brokerage there stands a great workforce.
Calgary-based Sharp Insurance featured as one of Insurance Business Canada's Top Brokerages of 2017. The innovative company has carved its identity through technology and prides itself by offering services through mobile apps and other digital trends.
Smooth running requires a team of dedicated technophiles who aren't afraid to embrace the latest trends in the insurance industry.
Search and compare product listings for Insurance Brokers from specialty market providers here
One such employee is Akeem Robin, a former army reserve who made the transition into insurance in pursuit of a longer-term career. We caught up with Akeem to see how he reached this point in his professional life.
How did you get started in the industry?
Before coming to Sharp Insurance, I briefly worked in construction and was in the army for four years. I wanted a long-term career and a new place to explore my strengths. After serving in the reserves, I was looking for a new challenge. A close family friend of mine thought I'd be a great fit for insurance - and I haven't looked back since.
What are the best parts of your job?
What I really love most about insurance is that every day poses a new challenge, which helps me grow professionally and as an individual. I love the people I get to work with. I love meeting new clients and finding creative and innovative ways to approach insurance.
What challenges have you faced in your role?
Sharp is a technologically advanced insurance brokerage, with unique ways to deliver services. The biggest challenge I face (which is actually an amazing opportunity!) is working for a company that churns out new advancements almost monthly. At times, it can be challenging to keep up. However, every time I master the new software or updates, my job gets that much easier.
What have you learned from your current place of work?
Sharp insurance boasts some of the most talented people in insurance and technology, which has motivated me to strive for excellence. Sharp's 'work hard play hard' environment is met with internal promotions and career advancements, for which I can see myself being a part of long-term and using the opportunity to grow.
What advice would you give to someone working their way up the insurance ladder?
Take the extra time to learn the craft. I come in early to spend time with different departments to learn the newest underwriting policies and trends. You need to devote time outside of your regular schedule to grow. I also find opportunities that go above and beyond my job description – for instance, I found ways to help market our company externally.
If you weren't working in insurance, what would you be doing?
I always had an interest in finance or investing.
What is your favourite hobby?
Fishing! I fish at least a couple of times a week. It's peaceful. I grew up in the Caribbean fishing with my family. Although we live countries apart, when I'm out fishing I feel like I'm back home with them.
Related stories:
7 SHARP INSURANCE
What to expect when insuring non-profits