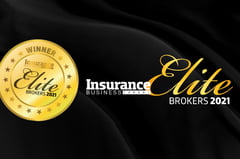 Despite the formidable economic and social conditions brought on by COVID-19, insurance brokers across Canada once again excelled. Hundreds of brokers persevered over the past 12 months – but none at the same level as the 23 professionals featured on the following pages.
Whether they entered the family business or came to insurance with zero experience in the industry, this year's Elite Brokers all earned their spot on the list by posting impressive figures in new business commissions or total premium volume – or both – over the last 12 months. Combined, the 2021 Elite Brokers placed more than $168 million in premiums and nearly $12 million in new business commissions for the year – a signifi-cant increase over 2020's $147 million in premiums and $8.1 million in commissions. From a former auto detailer to enterprising immigrants and eager young upstarts, this year's Elite Brokers truly represent the diversity and ingenuity of Canada's insurance industry.
METHODOLOGY
Each nominee for this year's Elite Brokers list was required to provide specific details about his or her personally generated business to be eligible. Brokers were evaluated based on new business commission volume and total premium volume achieved between October 1, 2019 and September 30, 2020. The top 23 brokers across both categories were recognized as an Elite Broker.