Broking boss: "We've made definite progress since my telex message days" | Insurance Business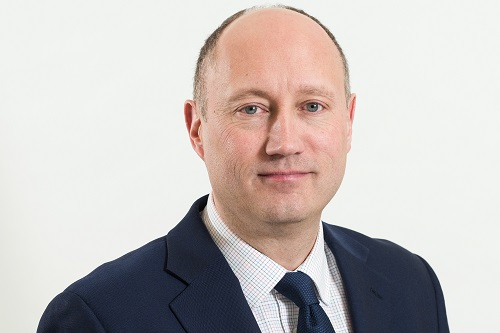 "I would want to do something that brought people joy."
Those were the words of broking boss Steven Rudduck (pictured), who opens up to Insurance Business about where he might find himself outside the industry. Here the managing director of Lloyd's broking house H.W. Wood Ltd shares his beginnings, number one priority, and a personal advocacy.
What brought you to the world of insurance?
Unsurprisingly, my story of coming into the world of insurance is not dissimilar to many others – it was by chance. I've always been a more number-orientated person and when I thought about a career, it was always working in the City. Originally I wanted to go into finance, which in the City meant banking, but that didn't really appeal to me when I got here.
After deciding not to go into banking, I put my CV through BIBA (British Insurance Brokers' Association) who distributed it to the brokerages in London, and I received an offer from Tysers to join their marine team as a junior technician. I've been a marine broker ever since.
The world of insurance was fairly unknown when I started, and it had all these funny words like 'specie' that nobody understood. If I had my time again, I wouldn't do anything differently. I think it's very important in life to have no regrets about what you do.
As managing director of H.W. Wood Ltd, what goals or priorities have you set both for yourself and for the business?
My number one priority as managing director and for the business has always been about the staff. Throughout my career I've seen how poorly people can be treated at work, particularly in the City. That's why my main goal as a leader has always been to focus on the people.
Making your staff a priority in any company makes good business sense. When you think about what a business is made up of, it's about having good people working for you who are committed to the business and motivated in what they do. When you have people like that working for you, the clients – and in turn the results – will follow.
At H.W. Wood Ltd, that philosophy has kept us in good stead and traditionally we've had a very low staff turnover. The way we do that is by being completely transparent and honest with our staff and allowing them the freedom to find success both professionally and personally.
In your capacity as MD, what are the biggest challenges you've faced?
I would say the biggest challenge to overcome has been working for a smaller, independent, family-orientated broker. There are such a variety of stakeholders that it can be quite the balancing act to make sure you're pleasing everyone. However, this challenge is very minor compared to the benefits of working for an independent broker. We're able to make decisions quicker and easier, and therefore we can service our clients much better.
Industry-wide, what would you say have been the most notable developments?
The biggest and most notable development during my career has been technology. I remember my first job was to deliver telex messages. Telex messages was how we would send written messages electronically between businesses. All the messages would be printed off on one long role of paper that could fill a room, and every morning we would come in early, cut out the messages, and hand them out to the staff.
Now we have robotics, artificial intelligence, blockchain, and so many other new technologies, which I personally believe will completely revolutionise the industry as we know it.
Technology is the way forward, and while the insurance industry still has a long way to go, I believe that it has given us increasingly more freedom. We've made definite progress since my telex message days, that's for sure!
If you were to leave insurance for another sector, which one and why?
Now this is a tough question. I think if I was to ever leave insurance it would be for something completely different. I've always loved the ocean, which is probably why I enjoy being a marine broker, so possibly something related to that? What that would be, I'm not sure – perhaps as a diving instructor or working on boats.
I think I would want to do something that left a smile on people's faces. Shockingly, buying insurance isn't a top priority on people's list of fun things, so I would want to do something that brought people joy.
Name one thing your peers probably don't know about you.
One thing people wouldn't know about me is that my eldest son is autistic. It's not something I talk about very much, but if this article can help raise awareness of autism then that would be great. There is still so much stigma around people with autism because it is such a broad spectrum and no two people diagnosed with autism are the same, and society often doesn't want to, or can't be bothered to, work out how to understand them better.
When I was younger, there was no such thing as autism – people were seen as socially awkward, and it wasn't understood that these people were this way through no fault of their own. The greatest thing to come out of my son's autism is the enlightenment and complete perspective change I have had since he was born. Of course, it has had its challenges, but to see him overcome those and grow into the young man he is today makes me very proud.
I think as well as raising awareness of autism I would hope to dispel some myths. My son plays football every week in the Charlton Ability Counts team, which he has done since he was a young boy, and is a massive Chelsea fan.