Marshall Wooldridge MD on career path and Army life | Insurance Business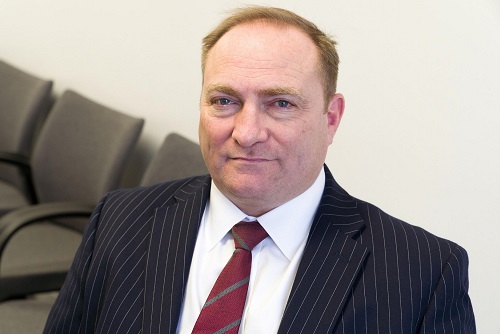 From not knowing what to do for a living to ultimately landing the role of managing director at a Chartered insurance broker – that's the path former Squadron Sergeant Major Geoff Kirk (pictured) found himself taking.
Here the Marsh alumnus tells Insurance Business how he started out in the industry; what sets Marshall Wooldridge apart from the pack; and what it's like to be a member of the Global Risk Partners family.
How did your insurance career begin?
My father was a senior manager at Eagle Star (the insurance business which was finally acquired by Zurich Financial Services), and at the time I was in the sixth form; I wasn't sure what to do for a job. I thought about university but I was ready to start work.
At the time of leaving school, a place came up at Eagle Star on the government-backed Youth Training Scheme, so I thought I would give it a try.
What made you move to Marshall Wooldridge?
Ten years ago I left Yorkshire. At the time I was working for Bluefin in Harrogate and was asked to become the Bluefin branch director in Milton Keynes. After five years Marsh Milton Keynes approached me to become the head of office for both Cambridge and Milton Keynes.
My family and I wanted to return to Yorkshire – and as I used to work for Mike Bruce and Neil Thornton at Bluefin, I had a catch-up over a coffee with Neil in Fenchurch Street, and a couple of months later the position came up at Marshall Wooldridge.
I knew and respected Marshall Wooldridge having worked in Yorkshire before and had come across them on a number of occasions. This was a really good opportunity and I decided to accept the position.
As managing director of the Chartered insurance broker, what are your priorities?
Continued development and training of staff is key to growing the business. The Chartered status makes us stand out from the crowd and demonstrates our continued commitment to our clients and staff.
How would you describe your relationship with Global Risk Partners?
I am quite proud of our parent status. GRP has achieved so much and really do support us; their buying power helps us deliver what our customers need, but we are also able to adopt best practice across the group and share ideas with other parts of the business.
Where would you be if not in insurance?
I guess after doing 28 years in the Territorial Army, I would be in the British Army.
Name one thing your peers probably don't know about you.
I guess the above. I was Squadron Sergeant Major of the Yorkshire Squadron of the Queens Own Yeomanry and Armoured Reconnaissance Regiment, which was equipped with Scimitar light armoured tracked vehicles based in York.
Before getting to this rank, I did a number of roles – from driver, gunner, commander, and troop leader. I have travelled in many countries while serving. My final role was at regimental HQ as RQMS (Regimental Quartermaster Sergeant) based in Newcastle.