MD of McLarens Aviation on where the aviation insurance market goes next | Insurance Business UK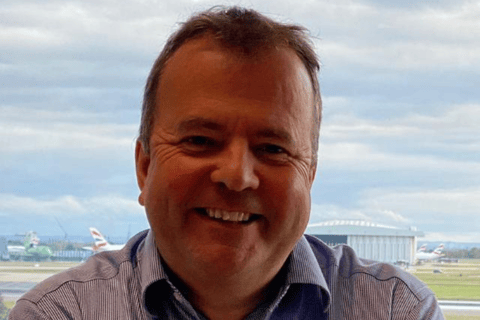 As a seasoned veteran of the aviation insurance space who has served the market for over three decades, Trehane Oliver (pictured), MD of McLarens Aviation, has seen the sector through periods of fair and foul weather alike. His role leading the aviation arm of McLarens sees him work with a rich range of clients including aircraft operators, airports, maintenance and repair organisations (MROs), financiers, lessors, and law firms.
Read more: Gallagher and McLarens reveal the impact of COVID on the aviation sector
McLarens Aviation is a leading provider of loss adjusting, survey and risk services to the global aviation industry, he said, and it hosts a team of over 90 in-house aviation specialists, operating out of a network of offices in 21 countries across the globe. With such a broad reach, it's little wonder that Oliver has a clear viewpoint of the key pain points pressing on the industry and on what the firm must do to keep pace with the ever-changing needs of its global client base.
"Prior to the COVID pandemic, our big focus was on international expansion, particularly in the areas where passenger demand was increasing in line with economic growth," he said. "So, for example, we've invested heavily in our US presence – particularly in the general aviation market – alongside opening new offices in the likes of Frankfurt, Brisbane, Beijing, Shanghai, Brasilia and Vancouver.
"As we recover from the pandemic, the focus has been on supporting the industry's return to normality, however, there are some notable areas where we have seen renewed interest. Commercial drone usage has taken off in recent years and shows no sign of abating. We've seen a marked increase in UAV claims across our global network, as a result."
Looking across the market, he noted that there's growing interest in the development of electric-powered aircraft. There has been significant investment and some notable technological advances, including the maiden flights of some prototype all-electric light aircraft over the past year.
The team at McLarens Aviation has also seen an increase in the number of ground handling incidents between equipment and aircraft, he said. The key challenge here is that airport traffic is increasing rapidly as airports move to return to normal services, leading to increased pressures on turnaround times, aircraft parking, etc. More broadly, the firm is currently hiring across its European network and has recently been appointed to a major airline client in the Middle East.
Claims costs are a challenge impinging on many areas of the insurance ecosystem and the aviation section is no exception. Oliver highlighted that even before the inflationary pressures that are now being seen globally, claims costs were increasing within the aviation sector. Several factors are contributing to making the ad-hoc post-incident repair of some aircraft and engines notably more expensive, he said, including the adoption of new composite materials in aircraft, the control of the spares market by manufacturers and the impact of long-term Power By the Hour (PBH) maintenance contracts.
"We have reviewed our own data relating to typical, day-to-day claims (those under $10 million dealt with on a weekly basis across the globe) and found that claims relating to composite aircraft with significant repair needs are more expensive to deal with than traditional metallic structures," he said. "This is partly to do with materials. For example, a single-engine fan blade on a large jet engine that might have cost $30k twenty years ago could easily cost $150k today depending on the material and design.
"It's also to do with maintenance and repair processes. For example, it is not uncommon to receive quotes on a fixed price basis and while this gives some certainty for repair budget planning, the experience of many adjusters will show that these fixed costs contain an element for contingencies. We are continuously engaging with manufacturers and repairers on these points, on our clients' behalf."
McLarens has also recruited a number of engineers with specific knowledge of composite aircraft having worked within both manufacturers and operators, he said, and will undertake an internal training programme on these developments.
Read more: WTW introduces Airport Risk Index
Another key trend that Oliver and his team are seeing is the impact of external weather as a cause of insured losses in the aviation sector. Lightening, wind, hail and thunderstorms all pose hazards to aircraft, as does flooding. In many regions, he said, weather events appear to be becoming more extreme and prevalent.
The sudden and unexpected nature of some storms can prevent manufacturers and owners from taking the necessary steps to protect aircraft in time to avoid damage. He noted that while hurricanes can be tracked and planned for in advance, sudden and unexpected storms can turn out to be much more severe than expected or originally reported.
"Microbursts, tornados, and earthquakes are other - albeit less frequent - weather events that have previously been the source of claims having caused severe damage to aircraft," he said. "Claims, of course, vary in size and scale of damage, from dents caused by hail, to total loss of aircraft.
"In 2011's Thai floods, for example, damage to runways and aircraft was a major driver of claims. Flood water at airports causes major contamination as well as damage to aircraft parked at the airport that were unable to be flown out. The flood water also causes significant damage to ground equipment and airport vehicles, in addition to affecting stores full of aircraft parts and test equipment that have been immersed in flood water."
During the COVID-19 pandemic, he said, there was the added challenge that many commercial aircraft were, at least for a period, grounded. The combination of mass accumulations of parked aircraft in single locations and more extreme weather events hugely increased underwriters' exposure to this risk.
Digging into the upheaval of the pandemic and how well the aviation sector has recovered in the post-COVID period, Oliver noted the sheer variety of major challenges that faced the sector – from staffing and training, to transitioning an unprecedented number of aircraft from storage facilities to the runway.
"There were some major challenges facing the sector and the industry had done a good job at addressing these," he said. "That's not to say that some challenges don't remain. The staffing shortages impacting some operators have been well documented and airlines and airports are working hard to address those.
"Despite some operational challenges, pent-up travel demand post-pandemic remains strong. In the short term, things look positive for the sector, though notwithstanding the wider economic challenges that all industries are facing."