The crash of Thomas Cook – insurance industry reacts | Insurance Business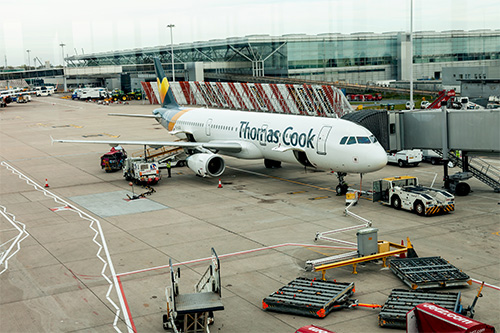 Unless you've been living under a rock the size of Gatwick Airport, you'll know that Thomas Cook Airlines along with all companies within tour operator Thomas Cook Group Plc went kaput yesterday. The insurance industry braced for impact, and here we bring you what they've said so far.
AXA UK, which told Insurance Business it is now experiencing three times the amount of calls usually handled by its claims teams at this time, gave a lowdown on the steps – including setting up a dedicated travel disruption page – it has taken to help consumers even ahead of Thomas Cook's compulsory liquidation.
"Since we became aware of its potential collapse last Friday, AXA issued advice to Thomas Cook customers via our website, social accounts, and customer service teams," noted AXA Insurance travel director Nel Mooy. "Over the weekend, additional staff were put in place to handle queries and we are planning on increasing this number over the coming days.
"As the largest repatriation ever to happen during peacetime, our priority is to ensure travellers are returned to the UK as quickly and safely as possible, which is why we are also liaising with ATOL (Air Travel Organiser's Licence), the CAA (Civil Aviation Authority), and the FCA (Financial Conduct Authority)."
There is said to be in excess of 150,000 travellers to be repatriated.
Read more: Thomas Cook 'left with no choice', enters compulsory liquidation – expect a barrage of claims
Yesterday the British government offered the following assurances: "For flights back to the UK, it doesn't matter whether customers are ATOL-protected or not, or what their nationality is. Everyone on a Thomas Cook holiday with a return flight to the UK within the two weeks will be brought home.
"Under normal circumstances, passengers who are not ATOL-protected would be asked to find, and pay for, their own way home. However, given the extent of the disruption the government is stepping in to assist impacted passengers and get people home."
Transport Secretary Grant Shapps, who said their contingency planning has helped acquire planes from as far away as Malaysia, called the endeavour "enormous" while asking for understanding amid possible hitches.
Meanwhile Association of British Insurers (ABI) head of general insurance policy Mark Shepherd highlighted that travel insurance policies can provide back-up if compensation cannot be accessed from ATOL or ABTA (Association of British Travel Agents) cover as well as banks or credit card providers.
"In the first instance, customers should check their policies on what cover they have," said the ABI assistant director. "Those with scheduled airline failure or end supplier failure should be able to get compensation for the cost of the flight. Where travel disruption is included, they may be covered for extra costs, such as additional hotel accommodation or the cost of new flights, where these are not recoverable from any other source."
Read more: Flybmi demise: Passengers advised to check for insurance
The British Insurance Brokers' Association (BIBA) offered clarity on the matter as well.
Following Thomas Cook's fall, BIBA stated: "Travel insurance is designed to protect travellers against a variety of different risks including cancellation, medical emergency or illness, and sometimes airline failure. However, consumers need to check the cover they buy carefully because not all polices include cover against airline failure and most will not cover tour operator failure."
Also sounding off is over-50s insurer and fellow holidays provider Saga Plc, which described Thomas Cook an integral part of the British High Street, while providing an update for affected customers.
"We have a dedicated team reviewing all holidays with Thomas Cook flights and we are doing everything we can to source alternatives," assured Saga in a statement.
"Currently, our priority is to contact customers due to travel in the next seven days. Please don't worry if you are travelling outside this and do not hear from us immediately. We will be working on these in date order and we will contact customers. There is no need to contact us, however we can be contacted on 0800 300 600."
Read more: Saga mulls sale of leisure businesses – report
The Kent-headquartered group continued: "If you are currently on holiday with Saga but were due to travel home on a Thomas Cook flight, we will ensure that you are well looked after until an alternative flight home is arranged. Our resort teams will provide you with further information.
"If you have booked a Saga Holiday through your local Thomas Cook Travel shop, please rest assured that your booking with Saga is safe and we will contact you in due course."
Allianz Assistance UK, meanwhile, has offered a free travel insurance transfer or full travel insurance refund for customers who have bought coverage to accompany a Thomas Cook holiday.
"Any Thomas Cook customer who has bought one of our single trip travel insurance policies and wishes to travel on another date for the same duration and to the same country, then we will be happy to transfer the insurance policy to another date without charge," said Lee Taylor, chief sales officer at Allianz Partners UK, which provides travel insurance under the Allianz Assistance brand.
"If any of our customers have bought a single trip policy and wish to transfer the trip for a different duration or country, then we will be happy to discuss any additional premium that may be required to do so. Those customers who have bought a single trip policy and cannot transfer the trip dates, we will be happy to refund the travel insurance premium in full."
Read more: What's next for UK travellers after collapse of Thomas Cook?
As for the massive repatriation efforts, lobby group Consumer Choice Centre has a different take on the subject as it relates to insurance.
"While it is very unfortunate to be stranded at the end of a holiday, one should ask why taxpayers should pay for tourists who didn't buy insolvency or travel insurance," asserted Consumer Choice Centre's London-based managing director Fred Roeder.
"Why should those who stayed home because they either didn't have the money or time for holidays bail out those who went for a holiday trip but didn't want to spend the extra few pounds for insurance? This is effectively the scenario that ordinary British consumers and taxpayers are faced with."
Roeder added: "Airlines and tour operators going bankrupt happens regularly. Monarch and AirBerlin are just two recent European examples. If the government steps in every time a travel company goes bust, the wrong incentives will be set: Travellers won't buy insurances and at the same time risk booking heavily discounted offers from troubled travel companies.
"If this happens, then the next government-sponsored airlift will just be around the corner."
What are your views on Thomas Cook's demise? Leave a comment below with your thoughts.