Ardonagh Retail reveals overhaul of executive team | Insurance Business UK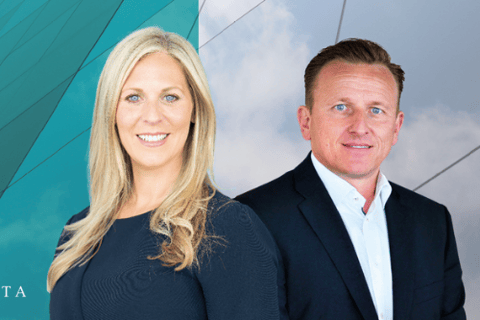 The Ardonagh Group has today announced that subject to regulatory approval, Ian Donaldson (pictured right) will take on a new position as CEO of Ardonagh Retail while Emma Rawlinson (pictured left) will take up the mantle as Atlanta Group CEO.
Rawlinson has been the CFO of Atlanta Group for two years now, a role that saw her play an integral part in the turnaround and digital transformation of Swinton. Atlanta, which includes the trading brands Swinton, Carole Nash, Autonet, Lloyd Latchford, Marmalade, Healthy Pets, Be Wiser and Paymentshield, has grown rapidly and now employs 2,400 people across 12 sites in the UK and Ireland, handles c. £1 billion GWP on behalf of 3 million customers.
Before she became CFO of Atlanta, Rawlinson was CFO and business strategy and performance director at Swinton. In a Press release, it was noted that she brings a wealth of retail and M&A experience to Atlanta and that, before joining the broking sector, she held several senior positions - including as UK CEO of tech firm In Touch Networks and CFO of regional private equity investor NorthEdge Capital.
She currently holds responsibility for finance, operations, customer, marketing, people and is the executive sponsor of the Atlanta OurFamily community forum. As CEO Rawlinson will lead a 40% female executive team.
As Atlanta's leader, Rawlinson will report to Ian Donaldson as CEO of Ardonagh Retail.
Meanwhile, in addition to providing oversight and guidance of Atlanta, Donaldson will lead on cross-group retail initiatives including personal lines data initiatives and the Atlanta Hub, as Ardonagh advances its global expansion.
Commenting on the news, Donaldson highlighted Rawlinson's commitment to customers, colleagues and communities and that this, combined with her focused determination, makes her the right person to lead Atlanta across the delivery of its three strategic objectives – organic growth, operational and M&A excellence.
"She leads a phenomenal team of individuals and a business which has emerged even stronger from the way we have had to pull together to support each other and our customers over the last 18 months," he said. "I could not be prouder to see her stepping into the CEO role. There is a world of opportunity within Ardonagh and I'm delighted to be leading the continued evolution and expansion of the group's retail business."
Rawlinson said it is a privilege to become the leader of Atlanta and emphasised that the strength of its brands, relationships, expertise, involvement in local communities and strong culture makes it an incredible business with a bright future. She noted that the lives, needs and digital expectations of Atlanta's customers have changed over the last 18 months and that the business has an abundance of opportunities to grow with today's customers at the core of its strategy.
Adding his voice to the news, Ardonagh Group CEO David Ross said: "Emma and Ian are exceptional leaders. With Emma at the helm of UK retail distribution and Ian leading the charge on connecting and deploying capabilities around the world our retail platform is in strong shape."