"At the moment, insurance has got a truly shocking reputation" | Insurance Business UK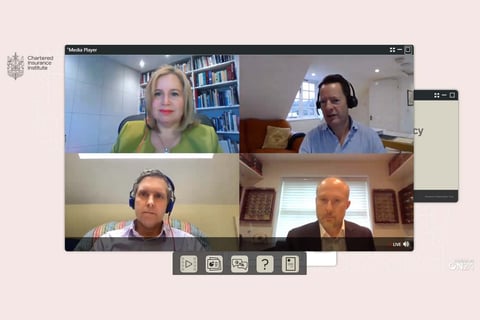 "What does transparency mean to you?"
That was the question posed by Melissa Collett (pictured top left), professional standards director for the Chartered Insurance Institute (CII), to the panellists of the CII's webinar on how to close the gap between customer expectations and what insurance providers can deliver.
As chair of the discussion, Collett highlighted that the CII's recent guide on how members can reduce the expectation gap has highlighted that the benefits of a transparent approach. Graeme Trudgill (pictured bottom right), executive director of the British Insurance Brokers' Association (BIBA) stated that, for him, transparency is the foundation stone of trust and it is about being open, being obvious and being easy to understand.
Read more: CII offers guidance on closing the customer expectation gap
"Insurance is an intangible thing but it's a promise to pay at the end of the day," he said. "That's why it's so important, in my view, that both sides of the contract – the customer and the insurance provider – have clarity over what is and isn't covered. And that clarity can breach that expectation gap between the expert and the layman.
"And if a client does understand and appreciate the value of the insurance, the policy, the brokers' contribution and the insurer, then that transparency can create trust. And that trust from the good transparency means that you get fewer Ombudsman complaints, happier customers at the end of the day, and greater awareness of the actual value of insurance itself, which I think is really, important."
MD of Fairer Finance James Daley (pictured bottom left) noted that when he founded the consumer consultancy business seven years ago to provide customer experience ratings, it quickly became clear how poor some customer journeys were in the insurance industry. As the world shifted from an advice-led model to one where more people buy through comparison sites, he said, the focus also shifted to pushing people through their insurance purchase journey as quickly as possible.
Evaluating the consumer journey means examining a range of considerations beyond what is and isn't covered by a policy, he said. It's also about excesses, about fees and charges, about accessible language, about website accessibility, about data consent, and about the clarity and readability of policy documents.
"You have to make sure that you're explaining the things that you know most of your customers misunderstand in that journey," Daley said. "And then make sure that your policy document is a manual so that, when a customer turns to it, they can find the information they need, and they can understand it when they get there."
Despite the simplicity of such transparency solutions, he said, many insurers don't meet those basics. The expectation gap is a real problem for the sector at the moment and insurance providers need to start changing their narrative.
Daley noted that companies need to dial back on advertising a promise that they will always be there for clients and focus on highlighting exactly what coverage entails and, where cover is not provided, offer solutions and offer to redirect clients to government support or other available protections. By doing this, he said, the industry can level the expectation gap and help rebuild trust.
"Transparency is a really interesting topic because, of course, at the moment, insurance has got a truly shocking reputation," said Peter Blanc (pictured top right), group chief executive of Aston Lark. "And that's no overstatement. If you stopped 100 people in the street and asked them what they thought about insurance, a fair few of them would say, 'well, you have to buy it, and then they try and wriggle every time there's a claim'. There is this awful perception that insurance just doesn't do what it's supposed to do."
In a lot of cases, this is very unfair, Blanc said, as insurance companies do pay claims and there are many happy insurance customers. Unfortunately, these customers aren't newsworthy which is why the consensus of the general population is so negative, a state of play that the industry must address.
The key to transparency is to always keep the end consumer in mind, he said, and to create policy documents as though you are explaining each aspect to the client in person. These days insurance companies and brokers are trying to feed information out in the form of ever-longer policy documents and, given that most know that nobody ever reads those documents, is it any wonder that there is a lack of transparency?
"I think that's on us," he said, "and we have to work out how we can communicate with people in a way that they will understand… And it's about picking out the really important pieces of information and absolutely making sure that all of our customers could replay to us, after the conversation and after they've bought the policy, what they've bought, and what they think they've got."
Clients should be able to confirm what is and is not covered, he said, and insurance providers need to double-check that full understanding exists. The more they do this, the more they will understand what customers are hearing when a policy is discussed because, at the moment, there is a fundamental gap in expectation versus reality.
Speaking with Insurance Business following the webinar, Trudgill noted how pleased he is to be able to work with the CII in helping to expand conversations about transparency and bridge the expectation gap. Because of the BI test case there will inevitably be further discussions on this subject, he said, and it's helpful for brokers to see from the CII's guidance that bridging the expectation gap is about simple, accessible and achievable small steps towards creating a more knowledgeable consumer base.