Aviva announces Q3 2022 results | Insurance Business UK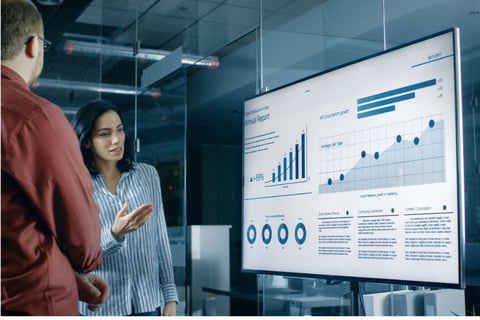 The British insurance giant Aviva has posted its trading results for the nine month period ended September 30, 2022. Underpinning the key figures announced, the insurer highlighted its continued strong trading momentum, driven by its diversified business model.
General insurance gross written premiums (GWP) rose 10% (7% at constant currency) year-on-year to £7.2 billion for 9M 2022. UK GWP jumped 7% to £3.9 billion, and Canada GWP was up 8% at constant currency to £3.0 billion. GI combined operating ratio (COR) remained strong at 94.3%, albeit up from 9M21's 92.4%. Aviva noted that this reflects more normal claims frequency versus the same period last year and that the group continues to maintain a disciplined response to claims inflation.
Aviva's UK&I Life value of new business (VNB) of £466 million for 9M 2022 represented a 46% increase year-on-year, driven by higher VNB in annuities & equity release of £143 million (up from 9M 21's £16million). However, overall UK&I Life sales of £24.9 billion were down 1%.
Aviva noted that despite continued good sales growth of 3% in Wealth and 4% in Protection & Health, these were offset by lower Bulk Purchase Annuity (BPA) volumes as it remains selective and disciplined on price. The insurer saw strong net flows in Workplace of £4.1 billion, up 11%. However, overall Wealth net flows dropped 4% compared to 9M 2021, standing at £7 billion.
Aviva's acquisition of Succession Wealth completed in August of the year, and Succession Wealth advisers can now access Aviva's platform and benefit from its competitive offering and access its multi-asset funds.
Commenting on the results, Amanda Blanc, group chief executive officer, said that trading is positive and Aviva's performance is "consistently strong". She credited the nine months results seen by the insurer as being due to its market leading positions, customer focus and the benefits of its diversified business across insurance, wealth and retirement.
"Our customers have continued to save for their future and protect what is valuable to them," she said. "Flows in our Wealth business were encouraging and general insurance volumes continue to grow, especially in commercial lines. Profitability also remains robust across both life and general insurance.
"Aviva's capital and liquidity position is strong and our high quality asset portfolio has performed well during the recent period of extreme market volatility."
Blanc added that Aviva remains confident in its outlook and is on track to deliver its financial targets while trading momentum is building. Aviva's dividend guidance remains unchanged and, as previously announced, it anticipates commencing additional returns of capital to shareholders with its 2022 full year results.
Adam Winslow, CEO UK & Ireland General Insurance, Aviva, also commented on the results seen and noted that Aviva's UK General Insurance business continues to perform strongly in 2022.
"We remain focused on meeting the needs of our customers, whilst delivering profitable growth through disciplined underwriting," he said. "UKGI COR was 95.0%, reflecting an increase in claims frequency, partly offset by an improved underwriting performance in commercial lines, as well as lower weather costs."
In commercial lines the business continued its track record of double-digit growth, he said, with 13% in small to medium enterprises (SME) and 14% in global, corporate and specialty (GCS). It is also continuing its investment in the regional broker channel, increasing underwriting capacity in its mid-market trading business and improving its digital service.
"Within SME, these initiatives are contributing to 11% growth in mid-market and 19% in digital trading," he said. "Through prioritising digitisation and automation, we are seeing 83% of our intermediaries transacting with us digitally, rising to 100% for our micro direct customers."
Meanwhile, Winslow noted that personal lines has remained resilient in tough conditions where Aviva has been vigilant in its pricing discipline and robust in its management of inflation
He added: "I'm confident that with our brokers and partners we will continue to advance our growth plans and provide customers with the solutions they need in a changing and uncertain world."