Aviva finance chief gets snapped up | Insurance Business UK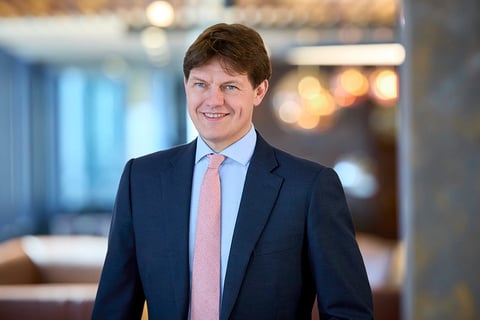 Aviva Plc chief financial officer Jason Windsor (pictured) is leaving the insurer to take up the same post at UK housebuilder Persimmon Plc.
In its announcement, Aviva said the hunt for Windsor's successor is underway. The departing CFO's resignation is effective from July this year.
"I have had 11 tremendous years at Aviva, but the time is now right for the challenge of a new sector, and I am hugely excited at the opportunity of being part of Persimmon," stated Windsor, who also serves as an Aviva director. "I wish Amanda [Blanc] and the rest of Aviva all the best for the future.
"I am very proud of what we have achieved over the last 18 months. The business is performing strongly and has great potential. I strongly believe that the strategy is right, and that it will deliver significant value for Aviva's customers and shareholders."
At Persimmon, Windsor will be replacing Mike Killoran, who is retiring today (January 14) as planned. Killoran was with the firm for more than two and a half decades.
Meanwhile, Persimmon noted: "As chief financial officer, Jason will receive an annual base salary of £675,000, which is the same as his salary at Aviva, and a pension allowance of 9% of salary in line with the contribution available for Persimmon's salaried employees."
Additionally, Windsor will be receiving awards to compensate for remuneration that he is forfeiting on leaving the insurance group.
According to Aviva, there are no remuneration payments made or to be made to the CFO as part of his departure. This is in accordance with section 430(2B) of the Companies Act 2006.
"During his six-month notice period, Jason will receive his salary and contractual benefits in accordance with his service agreement," revealed the insurer.
"He will no longer be eligible for any further awards under the Aviva annual bonus plan (including for the 2021 financial year) or long-term incentive plan, and when he steps down as chief financial officer, he will forfeit all outstanding share awards."
Meanwhile Aviva boss Amanda Blanc had nothing but nice words for Windsor.
The group chief executive commented: "Jason has been a valued colleague at Aviva in a variety of roles since joining the group in 2010, including as chief financial officer over the past two and a half years, an important period of transformation for the company.
"I would like to take this opportunity to thank him, on behalf of the board and colleagues across Aviva, for his commitment and contribution during his time here. He will leave with our best wishes for his future career."