Broker's commercial manager secures Nottingham Insurance Institute presidency | Insurance Business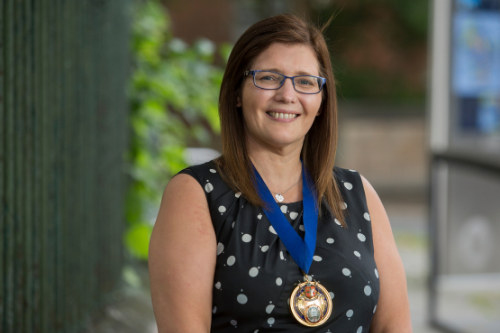 It's a breakthrough moment for Joanne Marriott (pictured), commercial manager at Russell Scanlan, after she secured the presidency of the Nottingham Insurance Institute. In the process, Marriott became the firm person at the company, which is based in Wellington Circus in the heart of the city, to take the role.
Marriott has been part of the institute for 19 years, holding a number of roles, includes treasurer and deputy president. She joined the brokerage back in October last year and expressed her pride at following on a keen legacy with the company having had many representatives be part of the council in the past.
"I've had the pleasure of working with some inspirational past presidents, so there are certainly some big shoes for me to fill," she said. "Nonetheless, I'm excited for the challenge ahead and I know I have the support of the council every step of the way."
As part of her role, she and the council will be offering mentoring, training courses and career guidance. She will also be dealing with the ongoing transition the institute has made since the arrival of COVID-19.
"When I accepted the role as the future president, little did I know that I would be taking on the mantel in a virtual world," she said. "The pandemic has presented many challenges to the institute over the past year, but with the hard work and dedication of our council members, we have learnt new ways to communicate and continue to provide a full, varied and successful CPD programme. We look forward to meeting face-to-face with our members again once COVID-19 restrictions allow, as well as continuing to utilise the infrastructure we now have in place to introduce both in-person and virtual meetings."
In addition, she is hoping to introduce new ways to raise money and hopes to boost the profile of women in the industry, following in the footsteps of her great, great grandmother Alice Hawkins, who was a leading East Midlands suffragette.
"We are so proud of Joanne for taking on this new adventure and flying the flag for the Russell Scanlan team," added Russell Scanlan sales and marketing director Mike Dickinson. "She has years of experience in the industry and a strong willingness to help others, we know she will make a real difference during her time as president. We look forward to supporting her each step of the way."