CEO on seeing the insurance profession rally behind a great cause | Insurance Business UK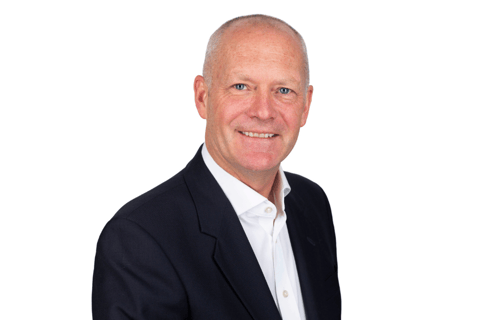 Like a smile or a yawn, there is something innately contagious about the actions of inspirational people. Dig in behind the scenes of any fundraising drive, any sponsored charity event or any pledge campaign, and you will inevitably be able to trace its origins to the actions of an individual committed to making a difference.
Read more: Why charity and insurance make for a great combination
In Steve Redgwell (pictured), CEO of PIB Group's specialty division, insurance has a prime example of such an individual as he leads the industry in raising funding and awareness of Challenging MND – a charity supporting those battling Motor Neuron Disease. When he first received his official diagnosis about four years ago, he said, it was the culmination of significant diagnostic testing over about a year – and despite the devastating blow, he was determined to keep the news quiet.
"I've always worked on the basis that with everything in life, you're dealt the cards you've got," he said. "And when there's nothing you can do to change it, you've just got to get on and go on. You can sit there and get into all sorts of 'woe is me' but that's not going to change anything. So, it was just a case of let's get on with life and let's see what we can do about this."
He kept the news between certain family and close friends, he said, reluctant to tell his parents and cause them so much upset over something they could not do anything about. However, his mind was changed when he saw Ed Slater's powerful announcement on the morning news that he had been diagnosed with MND and was going to do a 350-mile bike ride to raise awareness of the terrible disease.
"When I saw Ed Slater, I thought 'I need to do something here while I can'," he said. "So, I sat my parents down and had that chat with them, and then let everybody else around know what was happening… And I knew I wanted to go out and raise some money and awareness as well. So [my family and I] started looking and thinking about what we wanted to do.
"And I've always been passionate about people. Whether it's in business or in your private life – it's people that make things work, that get you through things, that support and help you. So, when we came across Challenging MND, which is local to where I live, I loved the fact that their whole mantra is helping families living with this. Yes, they help the individuals themselves, particularly when they need it most towards end-of-life care. But they also support the families living through it and those husbands, wives, partners etc. who end up becoming carers, which is really tough."
Redgwell highlighted that Challenging MND is a relatively new charity, founded by the former GB decathlete Alex Gibson, who was diagnosed along a similar timeframe to himself. In a twist of fate, the initiative is headed up by CEO Liane Iles, a fellow insurance veteran who worked at Aon at the same time he was there. To see the results of the work done by the charity, and the impact it has on families is incredibly touching, he said, and he was moved to find ways to support its work.
To raise financing for those living with MND, he decided to take on an 11km walk on the South Bank and set up a JustGiving page - steven's #walkingwithRedgie. The walk will take place starting 10.30am on October 8, he said, and (the rail strike permitting) some 200 people have already signed up to take part in the event.
"When we set up the target, I was cajoled by my CEO Brendan McManus to go for the big shot of £25,000," he said. "He told me, 'I'll make sure you get there', which scared the life out of me actually! Well, we hit that in less than 24 hours. And I remember just thinking 'wow, what's happening here, the whole world has just taken off!'"
Read more: PIB's Steve Redgwell on building a business fit for the future
Ever the dedicated insurance professional, Redgwell recognised that the best solutions blend proactive problem-solving with reactive help. With this in mind, he sat down with the charity and they agreed that in addition to supporting families, the funds would be well-placed going towards researching and finding a cure. Everything above the £25,000 mark will be split 50:50 between the charity and research bodies looking for a cure. The funding recently hit £90,000.
"It's all just falling beautifully into place," he said. "It has branched out from where we were originally going but it has been wonderful to see. And it started for me around Challenging MND and with Alex Gibson, who is an unbelievable individual. If there is a person who can inspire you never to give up, to not understand the word 'no' – he's the man, he's just phenomenal. And I'm delighted that he'll be joining us on the walk because it will be good for people to meet him, and to be inspired by him as well."
While his diagnosis was a tough message to get, Redgwell said, and his own experience in living with MND is not an easy one, as he has to constantly find ways to manage his energy levels and strength, he's unblinkered to the good news around him. There's the MND Association's "mounting confidence" in a treatment which is showing early signs of being effective in the halting and even reversal of MND symptoms. Then there's his own journey to date, as he was told four years ago to expect to be in a wheelchair in two years – and now he's gearing up for an 11km walk.
But most of all, Redgwell's faith and passion for people is proving itself over and over again. He cited the support from his family and friends who have been a bedrock throughout his journey, as well as the backing shown to him by colleagues – from practical considerations such as carrying his bags to their unyielding support for the upcoming charity walk. Companies can talk about being a "family", he said, but PIB have shown what that looks like through their constant support and he is grateful to be part of a group that thinks along those lines.
Looking at the reaction of the wider market he said it has been "beyond anything I would ever have thought would happen". The generosity and kindness of so many people, many of whom he has yet to meet has been mind-blowing, he said, and he's looking forward to catching up with many of them at the walk on October 8.
For those looking to get involved, the best way to do so is to contact Liane Iles at [email protected] and Redgwell invited anybody interested to get in touch and to join the walk. The participants will be hard to miss, wearing the specially designed colourful t-shirts that will look to create further awareness of the disease and the work of Challenging MND. It will be a rather international affair, he said, with people joining in remotely from Madrid, Bermuda, Glasgow and Dublin.
"It's so humbling to see how people are finding ways to support this," he said. "I was talking to my wife the other day and I was saying to her that it is amazing the sum of money that has been raised – it's absolutely phenomenal. But the bit I still can't get my head around is that some 200 people are giving up their Saturday for this. Some of these are people I've not met for years, other close friends, some I know but not well, and some I don't know at all yet.
"They're giving up part of their weekend to come and walk with us. And over 560 people have dipped into their pockets to donate money to this cause, to support families. You don't even dream of getting that kind of support. And I just can't thank people enough for what they're doing to help Challenging MND, to help the bodies doing the research into a cure, and to help families. It has been amazing, I can't say enough."