Churchie, the Churchill dog, gets a facelift | Insurance Business UK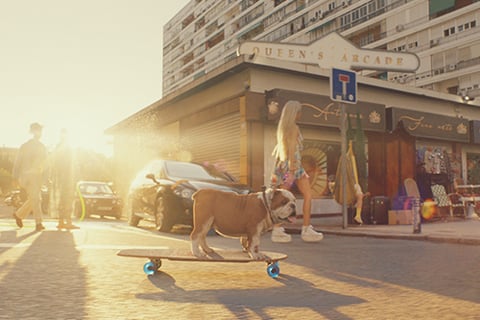 Meet the all-new Churchie.
General insurance brand Churchill has relaunched itself by giving its iconic mascot, as well as its logo, a makeover. The "completely fresh" CGI (computer-generated imagery) incarnation of the figurehead was introduced in a television advert rolled out Friday.
As for the logo, it's been changed by using a different font for the "chill" portion of the brand name – the message being, that Churchill policyholders can relax given their insurance coverage.
"Our audience has always loved Churchie, but they don't expect him to stand still," commented Churchill marketing head Lucy Brooksbank. "So, with our new relaunch of the brand, Churchill rides on, making life feel that little bit more effortless – as we believe it should do for all our customers allowing them to just... chill."
The TV spot, featuring a skateboarding Churchie, was produced by MJZ and is part of an integrated campaign developed by Engine Creative. The Churchie CGI, meanwhile, was spawned by visual artists from Untold Studios.
"Churchill is one of the nation's most loved brands," noted Engine's executive creative director Paul Jordan. "But brand love can slip into overfamiliarity if you're not careful.
"ENGINE was determined that no-one should take Churchill for granted. So, we've given Churchie a complete makeover. Goodbye nodding dog. Hello lean, mean Chill machine."