Cladding manufacturer faces wrongful death lawsuit over Grenfell Tower fire | Insurance Business UK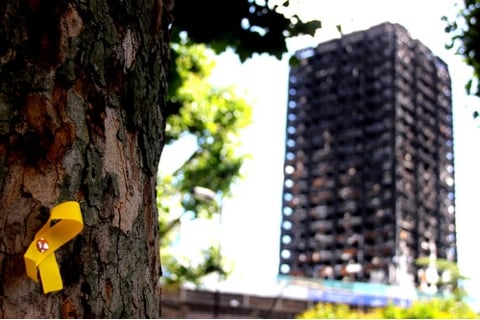 "It was all completely avoidable. It should never have happened."
Those were the words of Grenfell Tower fire survivor Marcio Gomes – whose stillborn son was the youngest fatality in the 2017 tragedy in the UK – when it was announced that a wrongful death lawsuit has been filed against US companies, including the manufacturer of the residential building's combustible cladding.
Filed on behalf of 69 of the people who died, as well as several others who were injured, the 143-count wrongful death and products liability complaint is demanding a jury trial in Philadelphia County against Arconic Inc and two related corporations for the Reynobond polyethylene cladding panels; Celotex Corporation for Celotex insulation; and Whirlpool Corporation for the Hotpoint brand fridge-freezer, a unit of which was previously cited as the origin of the blaze.
Read more: Revealed: Cause of Grenfell Tower fire
"While the flames erupted in a flat in London, this fire originated and spread because of decisions made in the United States by United States corporates that prioritised profits over safety," explained Robert J. Mongeluzzi of Saltz, Mongeluzzi, Barrett & Bendesky, P.C. (SMBB).
"We seek to hold these American companies accountable on their home turf to send a message that conduct like this will not be tolerated anywhere in the world."
The defendants are all incorporated and headquartered in the US. Plaintiff Nicholas Burton, who became a widower in January 2018 after his wife's injuries from the fire ultimately led to her passing, believes the most effective means to hold the firms – who he claimed knew of the dangers with their products – accountable is by suing them where they are based.
The case, Estate of Gloria Trevisan, et al. vs. Arconic, Inc., et al., is seeking undetermined compensation including punitive damages.
Read more: Grenfell Tower was "knowingly" supplied with flammable panels
Also representing the plaintiffs along with SMBB is DiCello Levitt Gutzler LLC, whose Mark A. DiCello asserted: "As we allege in our complaint, this type of cladding is banned from use on residential structures higher than 40 feet in the United States, because it is highly flammable. The Grenfell Tower was more than 200 feet tall.
"Tragically, Arconic waited to make the decision to stop selling this dangerous product until after this horrific tragedy. They designed and marketed a lethal product and reaped the profits while the victims paid the price."
Gomes, who lived with his then pregnant wife and two daughters on the 21st floor of Grenfell Tower, said the incident should never happen again to anyone.
He declared: "Corporations must be held to account for each and every person who died or was injured; from our son, the youngest person to lose his life, to the grandparents who died protecting the ones they loved. We will never forget. We will not let them down. We will see justice for all at Grenfell."