Commercial drones – what are the benefits, risks and legal restrictions? | Insurance Business UK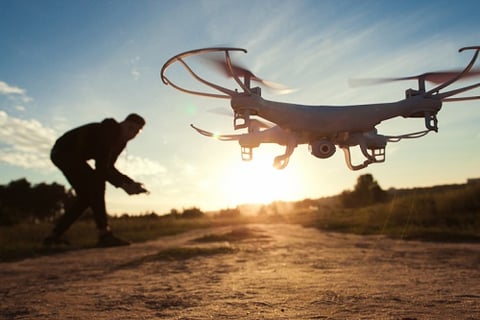 The following is an opinion piece written by Colin Prince, property underwriting manager at Zurich. The views expressed within the article are not necessarily those of Insurance Business.
In 2010 only five commercial operators had permission to fly drones in the UK. By August 2018, that figure had soared to 4,530, as a growing number of businesses are now exploring the potential benefits of drones and considering introducing them into their operations.
How are businesses using drones in 2019?
Common examples of drones being used for business include delivery companies sending items directly to the addressee, security firms using them to monitor properties and land remotely or surveyors using drones mounted with HD cameras to pick up small cracks or other damage to property and to assess hard-to-access structures such as bridges or skyscrapers.
In the insurance space, drones are also having a big impact. At Zurich, we have previously used drones across the world to assess damaged properties in dangerous locations, enabling claims to be processed quicker, for example.
Key benefits of commercial drones
There are wide-ranging benefits to using drones. Drones can enable retailers and other businesses to deliver products and services faster than ever before. This year, Amazon is set to begin delivering packages to customers in the US using drones and aims to deliver goods in a 15-mile range within 30 minutes.
Drones offer a more efficient and environmentally friendly way to make small, one-off deliveries compared to traditional delivery vehicles. They can also reduce the amount of manpower and specialist equipment required.
Drones are particularly useful for performing tasks that would pose safety risks to humans. This includes surveying towers and tall buildings, assessing damaged properties and inspecting mines, for example.
Moreover, the versatility of drones enables businesses to develop products and services that would once have seemed impossible. For example, UK company Animal Dynamics has developed a miniature "dragonfly drone" weighing less than 50g. This small drone is capable of operating in high winds, making it useful for surveillance in remote locations and complex search and rescue missions.
Legal restrictions on drones
There are complex restrictions about how and where drones may be used. Any organisation hoping to fly drones for commercial purposes in the UK must first obtain Permission for Commercial Operations (PfCO) from the Civil Aviation Authority.
Before each flight, the operator must also obtain permission from the owner of the land from which the drone is to be launched. There are additional restrictions surrounding the use of drones in built-up areas or near large crowds.
Adding to this complexity is the fact that the legal and insurance framework for using drones varies significantly from country to country. What is acceptable in one part of Europe, for example, may not be permissible in another.
Drone liability
While damage to the drone itself is an obvious consideration for any business using drones, a more significant risk is damage to property or injury to people. Any business considering using drones should first discuss with their broker or insurer what their potential liabilities could be, and what insurance coverage is available to protect against these liabilities.
In addition to property damage or personal injury, these liabilities could also relate to data or privacy issues, for example if a drone is being used for photography or videography.
Final considerations
It is important to stress that the risks associated with drones may vary significantly from business to business. For example, a company using drones in a rural setting, on land it owns, is likely to face less exposure than a business using drones in an urban environment.
The way that drones are used will also affect the type of permissions required from the Civil Aviation Authority, and potentially the availability of insurance.