Coronavirus: Lawsuit looms for Hiscox over business interruption policies | Insurance Business UK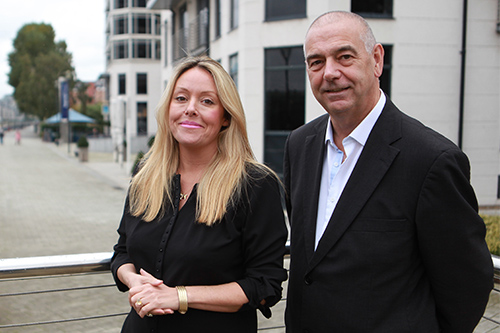 Businesses such as a creative communications agency, a café, and a recruitment firm are said to be planning to sue Hiscox after the specialist insurer rejected their coronavirus-related business interruption insurance claims.
According to a report by The Sunday Times, the affected policyholders are meeting this week with the goal of taking Hiscox to court. In the front line is London-based Media Zoo, projects of which have either been pulled or put on hold because of its offices being closed from the middle of March.
"Our Hiscox business interruption insurance specifically covers office closure because of notifiable diseases like COVID-19 but our insurer is refusing to pay," said Media Zoo creative director Mark Killick (pictured with managing director Rachel Pendered) in a previous statement sent to Insurance Business in which he cited the number of confirmed cases in their postcode.
The film company – which is currently unable to access its edit suites, graphics areas, and sound studios – said the policy is designed to protect Media Zoo against its "inability to use the insured premise due to restrictions imposed by a public authority" following "an occurrence of a human infection or human contagion disease, an outbreak of which must be notified."
They were, however, told that the denial of access cover only applies when there is an incident within a one-mile radius. In addition, the insurer's claims team said the public authority cover is only triggered following certain specific occurrences.
Glasgow-based claims assistance firm CEC, on its website, asserted: "Hiscox has refused to accept claims by saying that this clause means that only events at or in the vicinity of the insured premises should be covered and that the pandemic was not 'an occurrence' – suggesting the word should be interpreted as meaning a single event alone.
"It is our view that Hiscox has repudiated the claim on the basis of what they would like the policy to say, not what it actually says."
CEC's camp – which Insurance Business understands is separate from that of Media Zoo – is seeking a legal opinion on the validity of the refusal to indemnify and, based on that advice, will consider coordinated legal action on behalf of brokers and policyholders.
Meanwhile other claimants-turned-complainants, as cited by The Sunday Times, include Bramleys Coffee House and Colossus Associates.
In a coronavirus update last month, Hiscox stated: "During this period, many of our customers are being affected by cancelled travel plans or events, or interruption to their business, and where our policies cover these events, we are handling claims swiftly and fairly."
In recent days, however, the Bermuda-headquartered provider has been cited as conceding that events such as the COVID-19 pandemic are "simply too large and too systemic" for private insurers to underwrite.