Fenchurch Law on what happens next after the Supreme Court's business interruption ruling | Insurance Business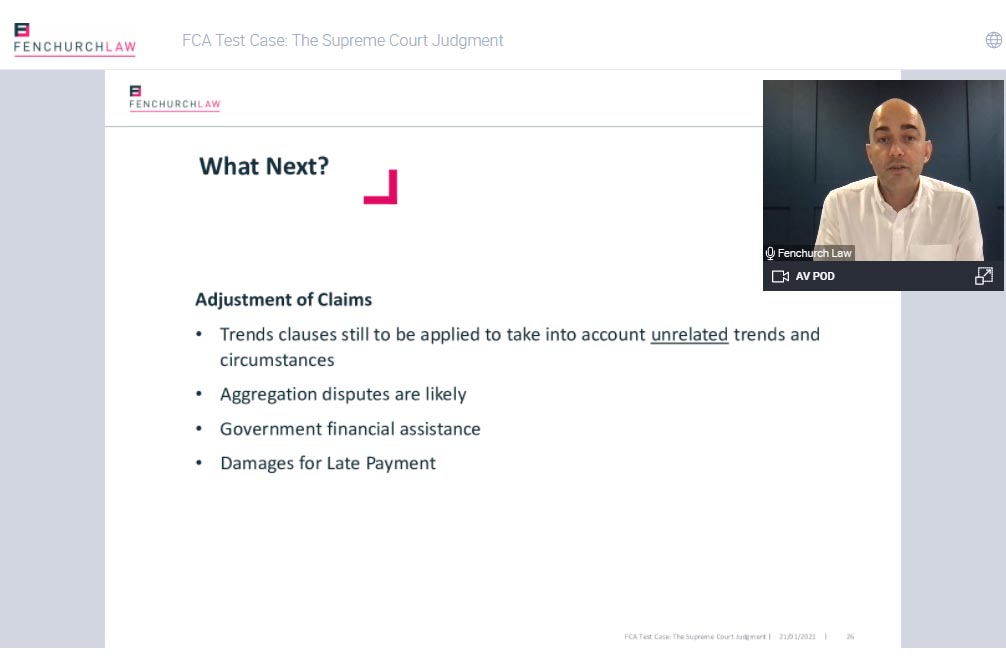 It's a week to the day that the Supreme Court issued its ruling on the FCA's business interruption (BI) insurance test case appeal. Over the last seven days reaction across the insurance industry has varied from elation to stark warnings against misreporting what the judgement means for policyholders. But as the immediate aftershocks of the court's decision dissipate, the real question now is: what comes next?
Read more: Revealed: The Supreme Court ruling for FCA business interruption insurance case
Yesterday, at a Fenchurch Law webinar on the 'FCA Test Case: The Supreme Court Judgement', Aaron Le Marquer (pictured) a partner at the firm, revealed the next key steps for insurers and policyholders. From the policyholder's perspective, he said, the findings were extremely positive, with some exceptions in terms of policies which were not appealed.
"So, what happens next?" he asked. "We still need to see the declarations that come out of that judgement. You'll recall that the first-instance resulted in a 30-page list of declarations which effectively gave effect to the conclusions of the court as they apply to each of the wordings in question.
"And the Supreme Court will now do the same. The party has been invited by the court to agree revised declarations. So, we need to wait to see what the declarations themselves say because they will give more specific guidance as to how the Supreme Court findings actually affect coverage under each of those wordings."
Going forward, more materials from the FCA are to be expected, he said, citing the FCA's consultation on draft guidance regarding proving the presence of COVID-19. The watchdog has extended the deadline for this until today, January 22. The consultation will be relevant as to how policyholders under disease wordings and hybrid wordings can prove that they've got a claim, and that they had an occurrence within the specified radius.
Le Marquer noted that the FCA has also indicated it will be publishing a Q&A for policyholders which will be a good starting point for brokers, insureds and their representatives in understanding how claims will be adjusted going forward. In addition, the FCA has indicated it will be publishing a full list of policy wordings that will potentially respond following the Supreme Court judgement and, when this comes to fruition, it will be an important guide for brokers and policyholder representatives establishing which wordings will now respond given the ruling.
Read more: Fenchurch Law on the next steps for the Supreme Court business interruption judgement
"So, we await those documents too, before anything's likely to happen with insurers," he said. "Adjustment of claims is what we all want to happen now."
While the industry is awaiting declarations and any further guidance from the FCA, he said, most insurers should have made progress with adjusting any claims that the High Court has found to provide cover. Most claims should be in a relatively progressed status by now. Le Marquer highlighted that there will inevitably still be disputes and discussion and negotiation to be had over claims. The trends clauses still have to be applied, to take into account unrelated trends, and there's bound to be disputes over aggregation, both at the direct level and at the reinsurance level.
"As to whether policyholders' losses amount to a single loss or many losses, whether they amount to a single claim or many claims, whether they arise out of a single event or many occurrences - the outcome of those disputes is likely to be determined on the specific wordings," he explained.
"How government financial assistance is treated for the purpose of calculating is another outstanding issue. Again, the FCA issued some guidance, or certainly wrote to insurers with one of its 'Dear CEO' letters, indicating that certain types of small business grants weren't to be taken into account when adjusting claims, either as turnover or savings. Some other types of financial assistance such as furlough and rates relief – question marks still remain over those types of payments."
Finally, Le Marquer touched on the subject of whether insurers could be on the hook for potential damages for late payment. This is a right that has been in place since the Enterprise Act of 2016 came into force, he said, and means policyholders are now entitled to claim not just the value of their losses covered under the policy, but also to claim damages where there has been an unreasonable delay in payment of the claim.
To establish that right, policyholders will have to navigate two main hurdles. First, they will have to prove that they have suffered loss as a result of the delay and, he believes, given present circumstances, there will likely be many policyholders who can establish that.
Many businesses will have had to take out expensive additional financing arrangements or take out loans. Some firms may have gone into administration, he said, and incurred massive additional costs reorganising their business. Those are the kind of costs that may form the subject of a claim for damages for late payment.
"The harder hurdle is probably going to be establishing the 'unreasonable' delay in payment," he said. "And that goes to the point [about] the Supreme Court's findings, and whether they perhaps indicate that the insurers' reluctance or refusal to pay claims back in March and April 2020 was, in fact, unreasonable. Watch this space, I think."