How the rise of IoT is impacting insurance | Insurance Business UK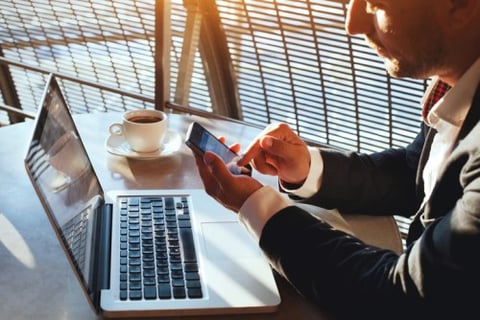 The following opinion article was written by Fridtjof Detlefs, head of insurance domain, and Kunal Guha, insurance domain consultant, both of Tata Consultancy Services.
The last decade has seen the rise of the hyper-connected customer. Individuals are becoming not only more connected with one another, and have the ability to gather information quickly at the touch of a button, but they have also become more connected with the devices they use. This interconnectivity and consumerisation has led to industries needing to assess how they operate and evolve to a more customer centric approach. This is especially true for the insurance industry that has historically outsourced distribution and is only recently learning how to reconnect with the end customer.
The consumerisation within the insurance industry has changed what the customer expects to receive when taking out an insurance policy. Therefore, this has led to an increase in collaboration and openness in communication between customer, insurer and other businesses that previously, were unconnected to the insurance industry. This necessary move to a more customer-centric approach within the industry has been aided by the rise of the Internet of Things (IoT).
Gartner estimated that in 2016 there were 6.4 billion IoT devices in circulation, and by 2020 this will rise exponentially to 21 billion devices. i.e. there will be more IoT devices than mobile phones. Currently these devices can be in the form of smart watches, home personal assistants and even smart fridges. The amount of data produced by these IoT devices is now starting to help revolutionise the insurance sector and allow it to personalise policies, streamline its internal workings and offer greater value for money than ever before.
Health Insurance
This significant amount of data produced by IoT devices, until recently, resulted in insurers spending a considerable amount of time working alongside their legacy systems to analyse information. However, with the adoption of Artificial Intelligence and more sophisticated analytical programmes, insurers are now able to not only assess the validity of claims quicker and more efficiently than ever before, they are also able to offer individual personalised policies.
For instance, with more than five million activity trackers sold in the UK alone last year – insurers are able to monitor for potential unhealthy lifestyles and validate health insurance claims by the data that is being received. One example of this continuous monitoring is the recent partnership between Vitality Insurance and the Apple Watch. Customers can sign up to Vitality and receive an Apple Watch Nike + for just £69, provided they reach a set number of activity points per day. This partnership benefits Vitality as they are able to monitor the data given to them by the Apple Watch and can forecast appropriately for future insurance claims depending on the health of the user.
In addition, individual consumers are able to benefit from their healthy lifestyle. For instance, an individual who utilises their activity tracker and can be seen to always go above and beyond their predetermined goals for the day is now able to reduce their insurance premium. This is because insurers are able to analyse the risk associated with an individual's lifestyle.
Individuals wearing some form of activity tracker are able to demonstrate that they are a lower risk investment for an insurer, and are likely to be offered insurance at a lower rate than an individual who might be as fit but cannot prove their activity.
Home Insurance
It is common knowledge that UK house prices are forever rising. Excluding the economic crash in late 2009, house prices in the UK have been rising steadily year on year since 1992 and are now at their highest ever valuation.
This steady growth has led to an increase in individuals taking out comprehensive home insurance policies. According to the Association of British Insurers, out of the 26 million home owners in the UK nearly 80% have taken out some form of contents insurance and 60% have taken out building insurance. This is to be expected with average house valuation topping £210,000 as of December last year. However, this has led to insurers paying out on average £8.1 million a day to cover everything from theft, accidental damage, natural disasters and third party damage. This necessary but significant cost on insurers is unlikely to be reduced any time soon . Therefore insurers have had to utilise IoT technology in order to improve their efficiency and reduce, where possible, the amount of money spent per day covering home insurance claims.
One such way home insurance companies have done this is by harnessing the power of IoT devices and using the data they create to not only assess the cost of a policy but also try and predict when policies might become active. For instance, a Philip Hue lighting system connected to the Nest Thermostat ecosystem is not only able to automatically adjust the brightness of the lights as it becomes darker outside, it is also able to start flashing if there is an emergency that the homeowner needs to address. This ability to alert the homeowner of an impending issue not only prevents content within the house being damaged, it also increases the likelihood that the homeowner will address the problem prior to claiming on their insurance. The insurance business model starts to shift from one that pays our claims when something goes wrong to providing risk prevention.
Customer Satisfaction
The boundaries between connected home and connected health are also blurring. In Singapore low birth rates, increased health costs and limited availability of health professionals is causing challenges around ageing. Increasingly people are living alone and prefer to receive healthcare treatment at home. This is not dissimilar to the situation in the UK. However, Singapore has a programme called Shine that offers seniors new technologies (i.e. a combination of a connected home + connected health) that allows the remote monitoring and care of people. This allows retired people to stay in their home longer and receive care from healthcare professionals in real time without leaving their home.
Unlike other insurance policies in the UK, both contents and health insurance is not a necessity. Therefore it is vitally important that the insurers within this industry offer value for money and customer satisfaction. With the rise of IoT this is now possible at a personal level. Individuals who are health conscious, cautious with their possessions and conscious of the upkeep of their property expect and deserve a better premium than an individual who isn't. With more and more IoT devices becoming available to individuals, the digital transformation of insurance industry will undoubtedly see more of these personalised policies being offered to the consumer.
The insurance market is operating in a forever changing competitive environment. With increased hyper-connectivity of the consumer it is no longer a necessity to turn to the traditional insurers in order to obtain cover for belongings. Therefore it is vitally important for traditional insurers to become more customer-centric in their approach. Insurers must ensure they are seen to offer exceptional value for money and customer service. Through utilising the data produced by IoT devices, Insurers will be able to offer customers bespoke insurance policies, which in turn, will allow them to remain competitive in the every changing market place.
The following opinion article was written by Fridtjof Detlefs, head of insurance domain, and Kunal Guha, insurance domain consultant, both of Tata Consultancy Services. The views expressed with the article do not necessarily reflect those of Insurance Business.
Related links:
Keeping up with cyber criminals
The future of insurtech: Will insurance have an Uber moment?