How to support humanitarian efforts in Ukraine? | Insurance Business UK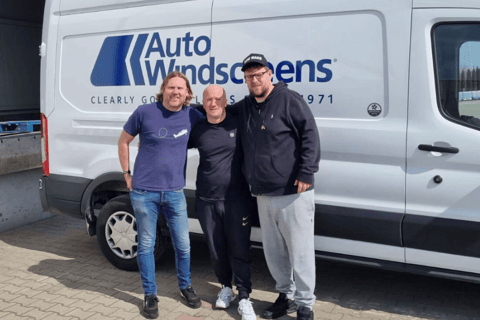 "Some things are bigger than you and if there has ever been a time to step up, this is that time for sure."
Commenting on his contributions to the ongoing humanitarian efforts in Ukraine, John Green (pictured right) – claims consultant with the Romford-based insurance broker Clegg Gifford (part of Markerstudy Insurance Group) – noted that his decision to become involved was made only a few days after the conflict began. He was at a barbecue with family and friends, among them his godson whose mother is Ukrainian and during the get-together, she was FaceTiming with her parents in Ukraine.
"It was all a bit crazy and emotional," he said, "and it just triggered something in me to try and do a bit more. I thought the best way forward would be to post on LinkedIn to the 600 or so people that I know personally in the insurance industry, having been doing this for 20 odd years… So I put the message on LinkedIn, reaching out and then I started typing up all my contacts and [contacting] them. I think we raised about 20 grand in a week the first time and I got vans from credit hire companies we insure, while Clegg Gifford insured all the vans for me."
Read more: Supporting Ukrainian refugees - and how everybody can get involved
Using the money he had raised, Green went out to the market to make deals with suppliers for the provisions most desperately needed by the Ukrainian people. He spoke with a contact in the Ukrainian government to determine these items – which included everything from sleeping bags, to first aid kits, to baby food, to military boots and binoculars. Then he and some friends he had roped into coming along for the trek, put in an appointment with the Red Cross in Lublin and set off.
When they turned up to their appointment, he said, the charity was completely overwhelmed and didn't have enough volunteers to process all the donations that were coming in. Rather than add their supplies to the (sometimes unsolicited) masses that couldn't be handled by the charity, Green and his friends went back on to LinkedIn to connect with others on a similar mission – and together they found several separate places to make the necessary donations.
After that, the volunteers still had about a van and a half of supplies, he said, so they made contact with a charity on the border of Lviv and Poland - Vita Fruits. There they were supported by the local army and fire brigade in unloading their delivery. Since that successful first trip, Green's fundraising efforts raised substantial awareness across the sector and led to his second expedition as part of a team of six including John Gibson of Keoghs and Gary Mason of Progress Vehicle Management.
The second trip involved four vans provided by Auto Windscreens and Progress Vehicle Management, and Markerstudy funded all logistical costs for the trip. Looking at the response his appeals have generated, Green remarked on the generosity of the insurance sector and how individuals, teams of employees and companies had come together to help in any way they can. What had been particularly incredible, he said, is seeing industry sectors that don't usually get along particularly well all pulling together behind this cause.
Read more: Markerstudy's Gary Humphreys discusses group's BGLI deal
"There's a lot of people who want to help, they just don't know how to do it," he said. "There have been so many people who have helped and even more that want to help. And I think a lot of people are a bit reluctant to donate to the bigger charities as they don't know where the money goes…
"But we're able to update people every day online as to where we are and what we're doing and who it's helping… It has blown me away, I think we've raised between £40,000 to £45,000 which tells you everything you need to know and it was all insurance as well – it was all the insurance industry coming together."
Green also emphasised the importance of giving the right support and supplies in the context of this crisis, especially given how overwhelmed a lot of charities have become. Everybody wants to help, which is fantastic, but there are lots of ways to provide that help and it needs to be done properly. As somebody with a young family, he said, he hasn't undertaken this task lightly and he has utilised his contacts in the Ukrainian government all along the way to make sure he's finding out exactly what is needed so he can help plug that gap.
In terms of what is required right now, he said, food is always necessary and medical supplies are number one on the agenda – so any non-perishable suppliers within those categories would be deeply appreciated by volunteers.
"So, just make sure you're giving the right help," Green said. "And I'm more than happy to have people reach out to me and ask for advice, so I can guide them on the best way to provide that help."