Insurance industry advisors had warned about Grenfell cladding guideline inadequacies | Insurance Business UK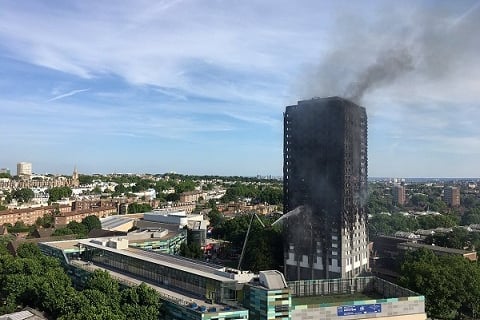 Photo via twitter, @Natalie_Oxford
After the devastating blaze of the London Grenfell Tower last week, residents have been searching for answers – and now it appears their anger and frustrations will only become more intense.
That's because a report by
The Guardian
said residents had in fact raised fire safety concerns to the Kensington and Chelsea Tenant Management Organisation (KCTMO), which manages the old property on behalf of the local government. According to the report, issues had been brought to KCTMO's attention as early as 2004.
It said the property manager denied there was a problem, adding that an independent consultancy looked into the matter and issued a series of "urgent recommendations" for improvement. It was also discovered half a decade ago that fire extinguishers were not being inspected regularly.
In addition, the Grenfell Action Group (GAG) had recently warned about the fire threat posed by discarded rubbish, and complained that access to emergency services was being blocked by parked vehicles. Improvement works also proved problematic.
On behalf of the tenants, a GAG member wrote to Kensington fire station in 2014, saying, "There is only one entry and exit to the tower block itself and, in the event of a fire, the London fire brigade could only gain access to the entrance to the building by climbing four flights of narrow stairs."
The emailed letter added, "On top of this, the fire escape exit on the walkway level has now been sealed. Residents of Grenfell Tower do not have any confidence that our building has been satisfactorily assessed to cope with the new improvement works."
Meanwhile, Grenfell Tower's exterior cladding has been cited as being one of the factors in the spread of the flames.
"It appears from what we've seen that the cladding certainly did play a part. It may be fully compliant with the legislation and the problem may be with the tests that are linked to the legislation," said David Sibert, fire safety adviser to the Fire Brigades Union.
According to the report, the Fire Brigades Union and the Loss Prevention Council, which was acquired by the Building Research Establishment from the Association of British Insurers back in 2000, had suggested almost two decades ago that the cladding guidelines were inadequate.
Related stories:
Revealed: Insurance cost of London Grenfell Tower fire
Insurer in catastrophic London blaze revealed