Lloyd's of London reveals reopening plans | Insurance Business UK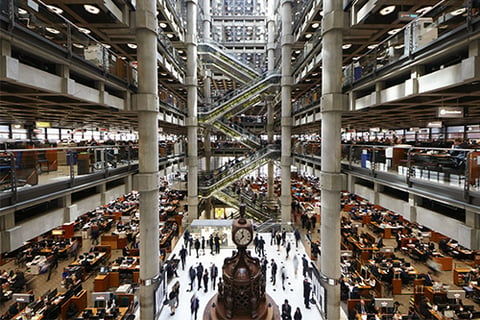 "There are detailed plans in place to enable the reopening of our London headquarters and iconic underwriting room on September 01, while adhering to government guidelines ensuring social distancing."
That was the announcement made by Lloyd's of London, the priorities of which are the health and safety of all market participants and minimising the spread of the coronavirus. The target date, however, is subject to the continued easing of lockdown restrictions and the UK government confirming the exchange's ability to reopen.
In the meantime, clear screens are being installed on underwriting boxes, and opening hours and a rota system are being reviewed as well. As for the underwriting room's capacity, this will be reduced to 45%.
Lloyd's will also be operating two entrances and two exits to the building, with queuing and one-way systems installed in a variety of locations. Escalators in the Lloyd's building will be operational for normal use, while lifts will be restricted to two passengers at a time.
In addition, the insurance marketplace announced the deep cleaning of the entire underwriting room and shared spaces prior to occupation. It said a fogging technique will be used every 30 days, while high touch points will be cleaned regularly throughout the day.
Other measures include the provision of temperature-check thermal cameras for voluntary use, and a click-and-collect take-away catering service for market participants.
"In parallel with these changes to the way that the physical market operates, we have taken the opportunity to accelerate our plans to improve our digital connectivity both within the Lloyd's building but also online with a virtual room," noted Lloyd's.
"This online environment will combine the best features of 1 Lime Street with digital technology to create efficient, smart, and collaborative ways of doing business, as part of our Future at Lloyd's ambitions."