Markel International announces new senior appointments | Insurance Business UK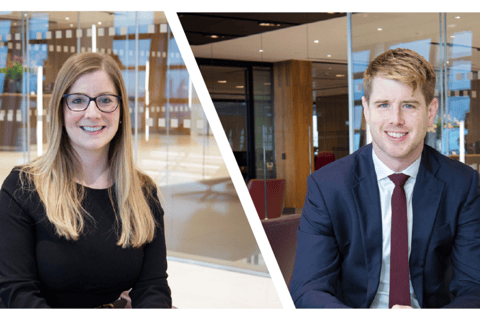 Markel International (Markel), a subsidiary of Markel Corporation, has appointed Andrew Green as its head of underwriting risk, while Emma Higgins takes over from Green as the head of catastrophe management. Both moves are already effective.
Previously Markel's catastrophe risk manager, Green (pictured, right) has over 15 years of insurance experience. He joined Markel in 2014 as the head of catastrophe management, where he was instrumental in expanding the team's remit to include a diverse range of products – from cyber to terrorism. Before joining Markel, he was at Tokio Marine Kiln for six years, latterly as the deputy head of exposure management. He started his career as a catastrophe modelling analyst at Catlin in 2006.
In his new role, Green works in alignment with the catastrophe management, actuarial, risk management, and underwriting teams and reports to Nick Line, chief underwriting officer at Markel. He is responsible for managing and mitigating volatility in Markel's portfolio.
Green said he aims to ensure the catastrophe management team upholds its embedded risk culture, robust controls, and strong risk framework to make good underwriting decisions and help Markel International achieve its growth plans.
"The work the catastrophe management team produces at Markel continues to be a great source of identifying potential risk, and I hope to leverage the knowledge and expertise in that team while collaborating with the other functions across the business," he said.
Higgins (pictured, left) has been with Markel for over six years and started as a senior catastrophe analyst in 2016. She was promoted to catastrophe risk manager in 2019. Before joining Markel, she was an assistant catastrophe risk analyst at Travelers Insurance Company.
In her new role, Higgins leads the catastrophe management team, focused on providing individual and portfolio risk insights across its products. She reports to Guenter Kryszon, global executive underwriting officer, property, at Markel.
"I'm grateful for the opportunities available at Markel and the ability to progress my career in an environment that values its employees. I am looking forward to leading and supporting the brilliant work that the catastrophe management team does while guiding the team to ensure we are aligned with the business's growth strategy," she said.
The promotions follow Markel UK's appointment of a new technical underwriting manager, technology recently.
Commenting on the latest moves, Line said: "I'd like to congratulate Andrew and Emma on their well-deserved promotions. Andrew's new position is designed to identify, manage, and mitigate sources of underwriting volatility in excess of Markel's risk appetite and will be imperative to the success of the business as we grow. Both Andrew and Emma's well-rounded experience and advancement are a testament to the opportunities available at Markel and our commitment to nurturing and retaining great talent."