Mental health experts highlight the impact of the coronavirus on wellbeing in the insurance industry | Insurance Business UK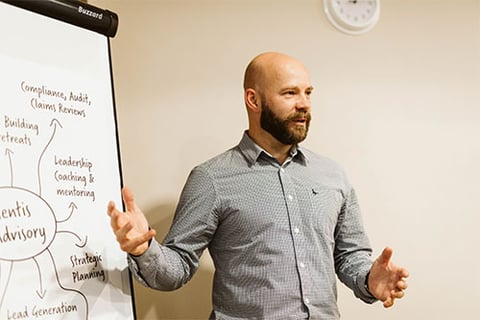 The continuing lockdown within the UK and globally due to the coronavirus pandemic has highlighted the need for organisations and businesses to support their members and employees in an ever-growing variety of ways.
Now, the MGAA has enlisted the expertise of Ian Sutcliffe (pictured above), director of Valentis Advisory and Harry Bliss (pictured right), director of Champion Health, to discuss the mental health an

d wellbeing challenges being faced during the coronavirus crisis.
Having been an insurance professional for nearly 30 years, Sutcliffe understands the imperative of raising awareness about mental health issues both in wider society and in the workplace. For the first 25 years of his career in the sector, he said, talking about mental health was a taboo subject but in recent years he has noted that conversations about this complex topic are becoming more commonplace.
It has become almost a daily topic of conversation among the upcoming generation, Sutcliffe said, and one of his biggest fears from a workplace perspective if that if employers do not catch up with the teenagers coming up into the industry then the sector will be in trouble when they hit the workplace in the next five to seven years.
There are very few statistics relating to the insurance sector specifically when it comes to mental health issues, Sutcliffe said, but from looking at the sector as a microcosm of the UK it is estimated that there are around 852,000 days lost to mental health crises a year and that the cost to the sector is between £655 million and £937 million.
Read more: Survey reveals anxiety over disclosing mental health issues among UK workers
"If that was any other issue that we face in our sector, such as fraud which costs the UK insurance industry £1.3 billion per annum, we'd be doing something about it," he said. "And coming back to the point around the next generation coming into the workplace, 65% of young people, aged 16 to 25 say that they feel anxious or stressed, often or always, according to the Prince's Trust Youth Index survey from last year. So, not only have we got an issue in the sector at the moment, but we've got an issue coming down the line."
This is an important topic to deal with not only for the individual struggling but also for the long-term viability of a business, Sutcliffe said, and the need to take action has been heightened by the pandemic as many people are experiencing increased levels of anxiety and stress. Bliss agreed that mental health and wellbeing has never been so important within society as it is at this time. The data that has come out since lockdown shows a 37% increase in mental health problems, he said, and the anticipated statistics around suicide are estimated to increase significantly.
Organisations need not only to be able to identify the problems within their employees when it comes to wellbeing, Bliss said, but also to focus on the solution. This is essential to generate a productive workforce who are able to cope with change, he said – something that is of particular importance at the moment when so much change is occurring so quickly.
"Let's make no bones about it," Bliss said, "COVID-19 is a threat to us and our society, so it's perfectly normal to feel anxious during this period… What we need to do is be able to accept the anxiety but also find ways of coping with this change."
Champion Health has developed 'the CHAMPIONS framework', he outlined, a guideline developed by academics and GPs across the UK which details nine key steps designed to help employees optimise their mental wellbeing.
Connect: As social animals building and maintaining positive relationships is essential to enable people to flourish, Bliss said, and though such connections are difficult at the moment, efforts must be taken to maintain them through online communication.
Help: "If we are struggling with our mental health we need to seek help," Bliss said. For too many, he noted, it takes too long to reach out for assistance and precious time is lost that could make all the difference in the successful outcome of a health crisis.
Activity: Exercise is fantastic for good mental health, Bliss stated, and those working from home should look to break their sitting periods every half hour if possible and make the most of their time outdoors, while adhering to be physically distanced from others while doing so.
Mindful: There are a number of fantastic apps to encourage mindfulness during the pandemic, he noted, citing a strong emerging body of research showing the benefits of practising mindfulness for your mental health.
Proactive: Being proactive rather than reactive when it comes to mental health is essential, Bliss said, and continuous monitoring of your mental health is necessary.
Impact: "Our work is so essential for our mental health," Bliss said, "it gives us a sense of purpose and if we do have furloughed employees or a reduced workload, look to volunteer as giving to other people is really good for our mental health as well."
Open: Being able to speak openly with family, friends or work colleagues is vital for mental wellbeing, he said, as is engaging in conversations about this sensitive topic.
Nutrition: What we eat and drink affects the way we think, feel and behave, the framework outlined, and everybody should be looking to consume nutritious sources of food and drink, and to look after themselves constantly.
Sleep: Bliss believes that this is perhaps the most essential step in the CHAMPIONS framework as it impacts the physical health of individuals as well as their mental wellbeing. "In terms of our heart health [sleep] is absolutely vital," he said, "but in terms of our mental health, an individual who is sleeping poorly is much more likely to develop a mental health problem compared to an individual who is sleeping well."
Bliss outlined how, following these nine steps will help enable an employee to optimise their own mental health which will, in turn, allow them to positively impact the mental well-being of those around them.
"It's not weak to speak," he said, "and I believe that's actually one of the reasons why, in the insurance industry there's one of the greatest costs to organisations from poor mental health, and that's partly because there is a 'toughen up' culture that we need to look to break down. And what we know from any culture that's high performing, from Liverpool in the sporting field to Google in the business field, we need to create psychologically safe environments for us to thrive in."