MP on the wonder of the insurance industry | Insurance Business UK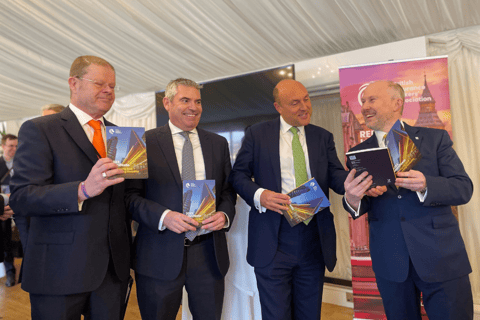 At 75-pages in length, and including case studies, research reports, commitments and calls for actions touching on everything from financial resilience to proportionate regulation to the future of motor transport – there's no denying that the British Insurance Brokers' Association's 2023 Manifesto is an impressive read.
So, it's striking that the volume and variety of considerations raised do not obscure the clear-cut underlying message of 'Managing Risk – Delivering Stability' – that BIBA is listening to its members. At the launch of the Manifesto, described by BIBA CEO Steve White (pictured left) as "our best yet", White was joined by Graeme Trudgill (pictured right), executive director at BIBA, and MPs Andrew Griffith (pictured centre, right) and Craig Tracey (pictured centre, left) to discuss its contents – and the renewed spotlight placed on the value of insurance brokers.
The ongoing growth trajectory of insurance brokers
A core takeaway from the Manifesto, and an apt one considering its title, was the insight it gave into the growth journey of brokers. Despite everything the last year has thrown at the industry, Trudgill noted that the broking sector increased its growth by £11 billion – with insurance brokers across all lines leveraging a GWP of £85.8 billion.
MP Craig Tracey, who also serves as chair of the all-party parliamentary group (APPG) on Insurance and Financial Services noted that he always looks forward to the launch of the BIBA Manifesto. Having spent 20 years running his own small brokerage, he said, it's rewarding to see such a comprehensive breakdown of the key issues facing the insurance market.
"One of the main benefits of the APPG is that even while there are distractions, we can continue to work with groups such as BIBA," he said. "And over the last 12 months, we've carried on that relationship of working together, not least on the Financial Services and Markets Bill. But we also embarked on a virtual tour [which was] a great opportunity for me to get to speak to a number of brokers across the whole of the UK and to hear first-hand the kind of things they were facing and where we could really help."
Breaking down the challenges facing the broking sector
Region by region, there were individual challenges, Tracey said, but there were also several recurring themes that he was pleased to see were closely reflected in BIBA's 2023 Manifesto – among them regulatory concerns and challenges around recruitment, which the APPG will take up on behalf of the industry in the months ahead. He highlighted that it was also good to see the emphasis in the Manifesto on financial resilience and the protection of vulnerable customers.
"I think one thing that we learned during the pandemic is that people can become vulnerable at any point," he said. "And so, it's never been more important to have a vibrant broking sector, looking after people on the ground… Access to advice and the right insurance products should never be underestimated.
"So, what you brokers do across all our communities, to protect our constituents, particularly those who are vulnerable is greatly appreciated. And I would like to thank you all for the work that you do that often does go under the radar."
Speaking at the launch, MP Andrew Griffiths, who also serves as the economic secretary to the Treasury, highlighted the value of the broking sector – beyond the traditional value that politicians often discuss in terms of the number of skilled jobs, apprenticeships and contributions to the economy.
The broking sector makes a significant contribution to all those elements, he said, but as somebody who prides himself on understanding and embracing risk as part of the lifeblood of an enterprising economy, he also commends the role of the broker in managing, pricing and creating solutions that help people manage the risks they face.
"That's the real lifeblood of our economy," he said, "helping businesses start that would never be able to exist if it wasn't for your products. And doing that almost alchemistic thing, which is being able to transfer risks between pools of individuals, between different territories, between different classes of risk holders. It's something we should never take for granted, as we try to strive to create the right regulatory environment where you can do that valuable work.
"We should never take for granted the underlying value of that management of risk function you perform, because it's not so very far away from here and it's not so very long ago in time, that societies were not able to transfer those risks. Still, in too many parts of the world, if you are beset by floods, by theft, or by fire - that can set you, your family, your generation back for decades to come."
The "magic of the insurance industry"
It is through the "magic of the insurance industry", Griffiths said, that economies are able to transfer and manage these risks and unlock so many of the benefits that advanced economies and advanced societies rely on and will continue to rely on. So, brokers must take heed not to underplay the core purpose they serve in supporting the societies around them.
Touching on the core theme of the 2023 Manifesto, Trudgill emphasised how brokers have risen to the "growth challenge" posed by recent years. Stability leads to growth, he said, which is why this year's theme of managing risk, delivering stability is so crucial. Insurance brokers are experts in managing risks and they deliver stability to clients by offering insurance protection against financial loss to protect their balance sheets.
Looking to the future, he said: "We want stability with regulation after a year full of change, and heavy new demands. And we also want stability with the economy and an end to the high levels of inflation, which creates underinsurance risk and puts pressure on claims costs. And we hope we're in for a period of political stability as well, here in the House."
What are your thoughts on BIBA's 2023 Manifesto? Please feel free to share your comments below.