Partnership rolls out cover for self-employed couriers | Insurance Business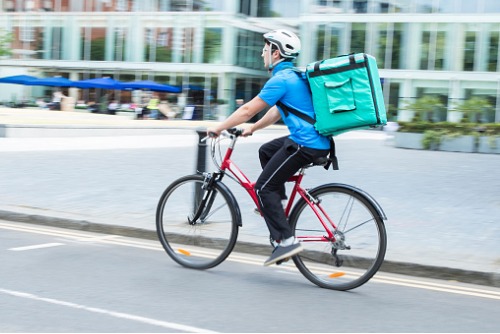 With more and more self-employed couriers plying the roads, specialist underwriting agency Compass Underwriting and specialist intermediary Bikmo have teamed up to allow the likes of Deliveroo to ensure their gig-economy workers receive a similar level of protection afforded to full-time staff.
Rolling out a bespoke accident and injury insurance product, the collaboration will cater to platforms who wish to cover all their self-employed contractors on a group basis. The tailored offering, which will provide lump sum payments of up to £50,000, protects against assault and loss of income from injury.
The comprehensive personal accident cover also features in-patient support and emergency dental repairs.
"For too long now gig-economy workers have not been able to access tailor-made protection cover," commented Compass Underwriting managing director Andrew Briant. "Compass, working closely with Bikmo and our Lloyd's capacity have provided a solution.
"It is a major step forward, and we're delighted to be working in partnership with Bikmo to ensure these workers have access to this innovative and essential cover."
In the event of an injury, online claims reporting and cross-referencing with GPS and earnings data will be available to the insured self-employed couriers.
"We worked with Compass to together provide a bespoke accident cover solution for a large client in the fast-paced gig-economy industry," noted Rob Grisdale, partnerships head at Bikmo. "We chose Compass because they have great access to flexible underwriters, can react quicker than others, and their ability to manage the claims processes.
"Together we developed the policy to fit the exact requirements and budget of the client. We are very pleased with their service and proven expertise in this market."
Related stories:
"Insurance had to change" - Zego launches new product
Uber in AXA tie-up to provide driver coverage across Europe