Prepare for home insurance claims as huge blaze rages near Manchester | Insurance Business UK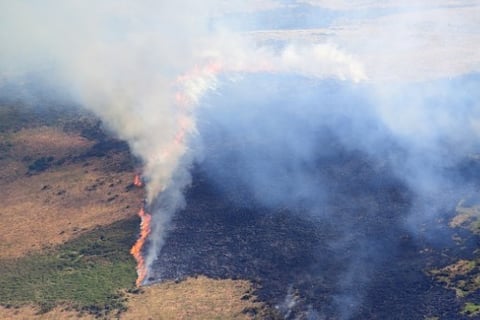 Local residents in Carrbrook, near Manchester, have been hastily packing their home insurance documents, alongside personal valuable such as family photos, amid a huge blaze that is sweeping moorland in the area.
Saddleworth Moor has been ablaze since Sunday and now soldiers have been drafted in to help take on the flames with some comparing the scenes to that of a volcanic eruption. More than 100 firefighters are involved, along with 39 fire engines, while around 100 soldiers from the 4th Battalion, Royal Regiment of Scotland were being readied for deployment.
Quoted in The Times newspaper, Tony Hunter, assistant chief fire officer for Greater Manchester Fire and Rescue Service, commented that "we have not seen an indication of any rain coming within the next couple of days stroke weeks, so we can see this being prolonged for days, if not weeks."
According to Prime Minister Theresa May, the situation is under "constant review." Dozens of homes have already been evacuated.
"The flames were really red, they were billowing, it was horrifically scary," said Danny Meenowa, 65, as quoted by The Times. "Our eyes were burning and the smoke is still awful, it was like Mount Etna."
Another local resident described "a burning wall of fire rolling down the hill and stated he "packed a bag of my essentials, passport, anything I could not lose, paperwork, insurance to the house. I didn't really have time to think."
Related stories:
Insurance conglomerate at centre of huge London hotel blaze
Contractor in £8.75 million settlement with burned school