QBE cyber specialist on the groundbreaking suicide prevention tool that has already saved 22 lives | Insurance Business UK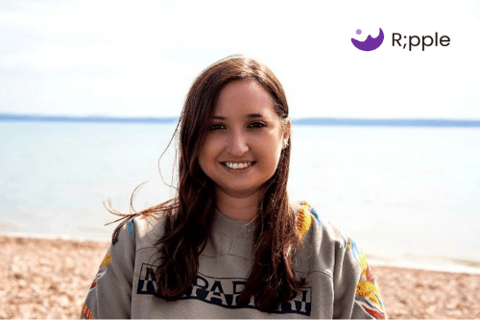 If there is any consistency to be found in how people experience grief it is perhaps only that every individual experiences it slightly differently. And while for some it has a paralytic effect designed to cause inaction, for others loss acts as a starting ground for change. Alice Hendy (pictured), head of Europe for cyber security awareness and education at QBE and founder of R;pple, belongs firmly in the latter category.
After the tragic loss of her brother Josh to suicide on the 25th of November last year, Hendy was looking through his laptop and phone, after they had been returned by the police, for some sign of what had gone wrong. She discovered that he had been looking at incredibly harmful material online, she said, which went further than discussing suicide to actually offering encouragement and tips on how to take your own life.
"It was Christmas Day of last year that I thought, 'okay, I'm going to try and use my skillset to make a difference and stop this from happening to other families," she said. "It was then that I set up R;pple, a browser extension product that can be downloaded on Google Chrome and Microsoft Edge, and very soon also on Safari and Firefox.
"Once it's downloaded, if somebody searches for any content to do with self-harm or suicide then before the search results come up, my tool intercepts them. And it presents them with a short breathing exercise, which has been statistically proven to help a person reset what they're thinking. The tool then displays a selection of different mental health resources that the person can use 24 hours a day in the way that suits them."
The tool, which is free for schools, colleges and universities to download, was launched on the 10th of September (chosen to coincide with World Suicide Prevention Day) and has since been downloaded over 80,000 times. Earlier this month, Hendy's innovation was lauded at the UK IT Industry Awards 2021 where she was recognised as their 'Inspirational Individual of the Year', which she said was "overwhelming" and a real tribute to her brother.
What has made the effort, the hours and the mental energy expended by Hendy and R;pple development team truly worthwhile, however, is the success the tool has received since its inception. To date, 22 people have credited R;pple with preventing them from ending their lives after they conducted a harmful search, and she highlighted that this figure is the entire reason behind the service.
"It's essentially to get people the help that they need at the time when they're most vulnerable," she said. "But from a personal perspective, it's to stop any other sisters opening their eyes in the morning to waking up and feeling how I feel every day."
Read more: Mental health and insurance – the time to act is now
Hendy paid tribute to QBE which have supported her every step of the way both from a personal and professional perspective, and to the team who have assembled around her to volunteer their skills, time and services to R;pple. Without them, she said, the tool simply wouldn't exist. Three-quarters of that team have been bereaved by suicide themselves and are using this personal motivation to try and make a difference in the lives of others. They understand first hand what this grief means, she said, as it is estimated that for every suicide, more than one in 135 people suffer intense grief; a ripple effect.
Next steps for R;pple
The way ahead for R;pple is clear, and a pressing point on Hendy's agenda is to leverage the power wielded by search engines and social media giants for the benefit of society. She has seen the very worst that digital platforms have to offer, and is on a mission to change the way that harmful content can be accessed and interacted with online. Hendy has had conversations with the likes of Google since the early days of R;pple's development but, with the solution being the new kid on the block, the tech giants are looking for a solid business case.
Read more: Mental health objectives – why they've never been more important
"R;pple has been created with a huge amount of thought and is evidence-based," she said. "I've worked collaboratively with mental health professionals, clinicians, the NHS, organisations, charities, and lived experience groups - as well as testing it out on the general public to make that happen… Now it's a case of going back to Google and the rest and saying, 'I've done exactly what you said, it's saving people, it works but this really shouldn't be something that organisations have to proactively install, it should just be there.'"
A key next step for R;pple is developing a solution that is compatible with mobile and tablet devices, she said, as young people, in particular, are more likely to access content through these and so the solution would be able to reach a much greater number of vulnerable people. Behind the scenes, she's also working on translating the tool into different languages to make it available to as broad a swathe of people as possible.
How to get involved
There are several ways that interested parties can get involved with R;pple. The first step is to approach any local schools, colleges or universities to encourage them to install this free tool. It's easy for them to mass install it across their entire network of computers, she said, as evidenced by QBE which downloaded the tool onto around 4,500 machines across the UK in about 10 minutes. R;pple also has a tech team on hand to support anybody facing any difficulties.
Beyond reaching out to educational institutions, the second step is to promote R;pple across corporations. This is a two-fold ambition, she said, as firstly businesses across every industry need to be doing more to protect their staff, and the beauty of this tool is that it can support people who you might never have guessed would need that protection. Secondly, she is asking businesses who install the tool to make a donation to enable its continued evolution and expand its reach.
Hendy also has a presence on all social media platforms. She is available on Twitter, @Rippletools, on Facebook and Instagram at R;pple Suicide Prevention, and on LinkedIn. If people promote her story and encourage as many people as possible to engage with her content that would be a really effective way to expand R;pple's presence, she said, and her ambition right now is just to encourage as many downloads as possible. Hendy is also keen to get involved in any fundraising events and is open to any charitable partnership opportunities.
"I said right back at the beginning, when I started this journey, that if I can help stop one person from doing this, then I would have achieved what I wanted to achieve," she said. "So to save 22, that I know of as I'd imagine there's probably many more out there, has been incredible. And my mission now is to try and get this out to as many people as possible."