RSA CEO, Scott Egan, on the importance of great broker relationships | Insurance Business UK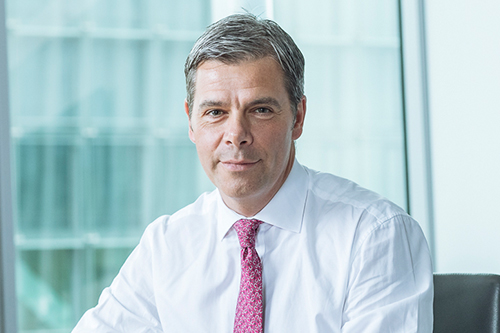 When speaking with Insurance Business about the RSA Insurance Group results which saw the company post a £383 million profit, CEO, UK & International at RSA, Scott Egan (pictured), made a point of extending his warm thanks to the brokers and partners who have worked with RSA and helped make this growth possible.
"In my very first interview that I did when I took on this job, I said that our broker partners are incredibly important to RSA. And I said that I wanted to get out there and meet them and talk to them again… I think that we have got on the front foot with our brokers again in 2019 and I think we've got some of our trading confidence back," Egan said. "They've been a fantastic support to us during 2019, and I look forward to building on these really strong relationships in 2020 to make them prosper."
From what he is hearing from brokers, he said, they can see this development within the people of RSA whose hard work he credits as responsible for the financial results achieved in 2019. For Egan, however, these results are a platform on which the business will continue to build and the business is determined not to rest on its laurels. Throughout 2020, he said, RSA is going to continue to drive the quality of its businesses and keep developing its capabilities and its culture.
Read more: RSA CEO reveals his ambition for the insurance giant
"We need to keep working with greater intensity, greater focus and greater agility," he said, "but, more importantly, have a really good customer mindset… We're working incredibly hard to make that happen. This business has to make sure that this is not just for one year but consistent. That has been its Achilles heel in the past and it's clear that we need to prove that on a year by year basis."
2019 was overall a year of good progress, Egan said, with RSA's European and UK domestic businesses returning to profit, and its Irish and Middle Eastern businesses having reported outstanding combined ratios of below 90%. The UK and Europe have started the journey of pulling more weight, he said, but the business will not be complacent about pushing these businesses to continue to improve and to further reduce their combined ratios.
Execution is improving across the business, he said, and it has seen some early signs of growth in its premium. In its More Than Home business, Egan said, a three-year decline has been halted this year due to growth in customer numbers, and RSA's regional commercial broker business has enjoyed very strong new business levels in 2019 and a fantastic customer retention rate.
Customer service remains a key focus for RSA in 2020, Egan said.
"We need to continue to be there for the brokers," he said, "and continue to be there for the end customers. You only have to look at the recent floods to see that need up close."
This emphasis on customer care, Egan said, is an effective tool for obtaining new customers to the business. There are strong pockets of growth within the company, he highlighted, citing how RSA's Irish business, 123 Insurance, managed to grow its policy count by nearly 2% in 2019, but the business is determined never to do growth for growth sakes.
"I think the day you do that in a business is normally the day you end up with bad financial outcomes. What we aim to do, in the areas where we are comfortable, is to deliver great service to customers with our capabilities and our products," Egan said. "We need to continue to challenge ourselves to be efficient and productive. And that's what we've done in 2019, but with all of the above there is much more do and that's what we're aiming for in 2020 and beyond."