The cage-fighting CEO who was once sleeping in his car | Insurance Business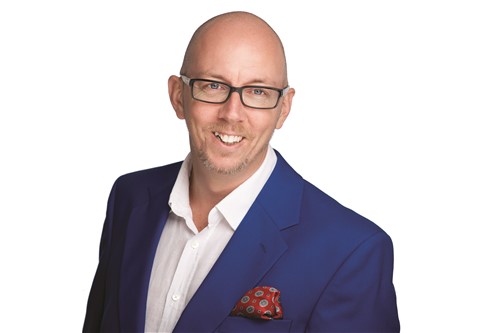 Insurance CEO, cage-fighter – not two titles you see in the same sentence very often. But by his own admission, Lyndon R. Wood, chief executive of online SME broker Constructaquote.com is "not your conventional, traditional insurance person." Now at the helm of his successful Caerphilly-based company – which turned
over a record profit last year
– Wood was once sleeping rough in his car.
Insurance Business tracked him down to find out how he grew the business organically from the bottom up, why you shouldn't put all your eggs in one basket, and the unusual career path he would take if he wasn't in insurance.
How did you get your start in insurance?
At age 18 I was sleeping rough in my car with nowhere to live. Then, I got a job in the insurance industry on commission only, did that for eight or nine months and then thought – I could do this myself and have all of the earnings. So, at 19, in August 1990, I set up a business. It was hard work, because I was young, I was naïve, I didn't understand the industry. Mortgage rates were sky high, we'd just hit the 1990 recession, and we'd entered the hard market of the insurance industry – but of course at 19, I didn't know hard markets or soft markets, I didn't even know what that was.
I've always had the instinct to have my own thing and to own my own time, to not be beholden to somebody else. The insurance industry just happened – I was sleeping in a car, I needed a job, I didn't have a choice. Not many people go into insurance as a conscious decision, in fact I think I've met probably two in my career.
How did you grow your business from such challenging beginnings?
We've grown largely organically over the 27 years. It's definitely a very different art to having a big pot of money and doing acquisitions, that's a different skill set again. When you grow organically it's a tougher gig – in my mind I should be ten times bigger than I am, but I'm not because we've done it organically and there is a right and wrong in that.
I have seen consolidators really fail at organic growth because they are so used to buying using other people's capital, but don't build value. Of course, they will always tell you that they know how, though!
It's a question of deployment – it's how you deploy that £100 that came through the door this month, what you spend it on, what you invest it in, and of course you have to live too.
It's how you deploy your resources both capital and human, because you have to be extra smart with it when you're using your own cash and not somebody else's. You've got to make sure that some of the bets you place are going to come through as winners. A good proportion wont, but a couple will, and they outweigh the losers.
What have been some of the highlights of your career?
Some of the highlights for me have been the big business lessons. At one time, we had 95% of our business on an MGA in one basket, and then 9/11 happened and my basket, which was a Lloyds syndicate, had to pull, because the capacity in the market had shrunk. I had 32 staff that I kept in jobs for three and a half months while I figured out what I was going to do. I couldn't write any new business, I couldn't even invite any renewals – I lost 55% of my clients. That was a lesson, that was one big event in my career, and I make sure my business isn't like that anymore and teach that to others.
What are some of the things that you find challenging about the industry?
The industry is still very archaic, it's still very traditional, it has many legacy issues that it's towing along the way and they are like shackles around its neck. The industry is open for major disruption. Everyone is jumping on the fintech/insurtech bandwagon, without really knowing what that means and what that looks like. It's just the latest sexy word – lets go and have a nose.
Many insurers try to be innovators – but having an app isn't innovation. You see it time and time again. It's too old fashioned, it needs reinventing, but probably no one is ripe enough to reinvent. Corporates are there with their big infrastructures and they just struggle all the time. They come out with buzzwords to please shareholders, but actually they don't have any real intentions. The real innovators are a handful of brokers and non-insurance based tech companies. This is why I have my own innovation business and are creative within Moorhouse using various technologies.
What would you be doing if you weren't in insurance?
I'm ex-mixed martial arts. I used to cage-fight until I was about 32, and I have trained since I was 12. So, I guess what I would be doing is working with gymnasiums with my own differentiators, because that's my real passion, and that's where I see opportunity. But I'm far too busy with insurance right now! There are lots of exciting things going on.
Related stories:
Online SME broker reveals significant profit increase
Pair launch new regional brokerage Actus with support of Gauntlet Group