What do e-cigarettes and vaping mean for insurance? | Insurance Business UK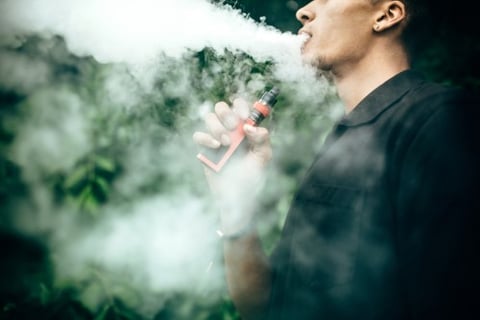 By now, you've probably read a number of conflicting reports on e-cigarettes and vaping.
Initially touted as a potential way for cigarette smokers to quit or transition away from harmful tobacco, e-cigarettes have since come under scrutiny from those who say they may actually provide another route into smoking, particularly for young people – though Public Health England has said that evidence does not support this concern.
And while the consensus today seems to be that e-cigarettes and vaping are considerably less harmful to health than tobacco smoking, more research is needed over time to fully understand the effects of what is a relatively new practice.
But with millions in the UK alone said to be using e-cigarettes and vapes, it's an area that the insurance industry will need to get grips with. Insurance Business spoke to Stuart Toal, casualty account manager at Allianz, to find out where the industry stands on the issue today.
What is the current view of the risks around e-cigarettes and vaping?
E-cigarettes have an important role to play in helping people quit smoking, according to a recent evidence review by Public Health England. But, while the announcement suggesting vaping be permitted everywhere – including in hospital beds – attracted media coverage, it's important to remember that the risks associated with e-cigarettes are not yet fully understood.
The review, which was undertaken by leading independent tobacco experts, found that vaping is at least 95% less harmful than smoking, with negligible risk to bystanders. But, as these products have only been on the market since 2005, and they contain a variety of chemicals and flavourings, the long-term health impacts are still unknown.
What are some of the liability issues surrounding vaping?
Regulation remains an issue. Although the UK introduced new requirements for e-cigarettes and refills in May 2017, under the EU Tobacco Products Directive, there is currently no international consensus on the regulation of these products.
Further, while this directive stipulates minimum safety and quality standards for e-cigarettes and refill containers, users can still create their own mixtures, potentially exposing themselves to unsafe levels or combinations of chemicals.
There are also fire risks with e-cigarettes. Using incorrect chargers, over-charging and over-tightening the screwed connection can all push up the risk of a fire. There have also been instances where e-cigarettes have exploded, causing bodily injury. In one case in Merseyside, the explosion ignited oxygen equipment, killing one man living in the property.
There are also concerns that e-cigarettes could be a potential route into smoking tobacco, with the British Medical Association particularly vocal on this point. Its position paper, E-cigarettes: Balancing risks and opportunities, highlights risks such as encouraging use by children and promoting smoking more generally, and calls for a regulatory framework that strikes the appropriate balance.
Which areas of the insurance industry are most likely to be affected?
Anything that can help to reduce the 79,000 deaths a year that are caused by smoking in England is to be welcomed, but until the risks, and in particular the long-term health effects, of e-cigarettes are fully understood, insurers are likely to exercise caution when writing liability exposures for both liquids and devices.
With so much reliance on the latest research, we will continue to monitor this area and adapt our underwriting approach as more evidence becomes available. While it may seem a cautious approach, especially compared to the press reaction to Public Health England's recent announcement, it's important to remember that at exactly the same time a link was found between lung cancer and smoking, cigarette companies were still promoting their products as good for your health.
Related stories: