What's next for RSA commercial lines? | Insurance Business UK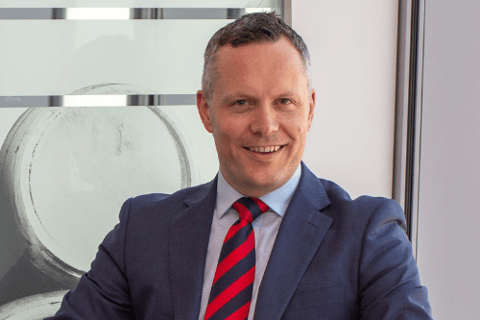 It's almost two years since RSA merged its Commercial Risk Solutions (CRS) and Global Risk Solutions (GRS) businesses to create a unified RSA commercial lines division, led by MD Rob Gibbs (pictured). For Gibbs, who joined RSA straight from university, the last two years have been a whirlwind and he is immensely proud of where the single unit stands today – as a £1.3 billion premium business, presiding over around 1,300 people across 12 sites across the country.
"What I learned early on is that if you set the right tone and ambition, and the words and the music are aligned, then whether you're dealing with the UK or central Europe or Asia or the Middle East or Latin America or any of the countries that my RSA journey has taken me, you can create a successful, aligned performance culture," he said. "And that's the best bit of my job – leading from the front and setting that tone and alignment."
This is the third business that Gibbs has been charged with turning around and he has been delighted with the progress it has seen to date. In 2018, RSA's commercial lines made a £100 million loss and subsequently entered into a strong remediation period, focusing on its technical expertise, its customer proposition and its risk management capabilities.
The business is now in the middle of a turnaround to the tune of about £160 million, Gibbs said, and is moving out of the remediation phase to focus on growth. The commercial lines business is now in a strong position, having successfully communicated its unique value proposition both internally, and to its broker partners and the wider market.
"Our teams know what we stand for, our brokers know what we stand for," he said. "We're not perfect and there will always be some bumps along the way, but offering a single face to the commercial marketplace is really starting to reap the rewards."
After several years of remediation, the danger is that a business can become very internally focused, he said, which is something that RSA has actively worked to prevent. The focus of the business's remediation campaign has therefore consistently been focused on combining its unique value proposition for clients with rebalancing its portfolio. The focus now is on presenting a coherent and balanced face to the commercial marketplace as the business moves into its next phase of growth.
"We've lifted our head up out of remediation and our focus at the moment is growth," he said. "That takes different guises in different P&Ls. In our regional business, for instance, we have a really strong proposition and we are pushing to continue that growth, which is up about 9% year to date. In London Market, we're pursuing very selective growth and that's up about 6% year on year so far… In our delegated authority business, we're seeing about 10% growth year on year.
"We're also focusing on a refresh strategy for SME. During what has been an unprecedented 18 months, we've learnt quite a lot about our SME customers and the brokers that serve those customers. And it's become clearer than ever that speed of decision making and access to decision-makers [is key]."
This has seen the business moved to predominantly live chat, he said, but has evolved beyond this to an evaluation of the platforms the business uses and the products it takes to market. What the commercial lines team have noted is a changing customer base in the SME market, and changing customer behaviours, wherein the traits of personal lines customers and commercial lines customers are blurring.
Broker feedback to such changes has been mixed, Gibbs noted, as it is always difficult to adapt to changes in the ways you do business, but RSA is working through that feedback at the moment and exploring the happy medium that exists in such circumstances. However, exploring the reaction of broking across the wider RSA commercial lines proposition, he has been delighted to hear the business is back on the radar of brokers - which has been reflected by the year-on-year growth it has enjoyed.
"We've got 87% of our customers who are staying with us, and then, year-to-date, we've written an average of over £4 million of new business every week, which represents [about] 3,000 new customers for RSA this year," he said. " So in recent times, we've been talking to our customers and brokers around the Intact takeover and their feedback to me is that the market needs a strong RSA."
Read more: RSA's Scott Egan on what will and won't change post-takeover
Exploring RSA's recent takeover, Gibbs noted that Intact offers incredible technical expertise and capability, as exemplified by the fact that the firm insures around one in four SMEs in the Canadian market. Intact is incredibly strong on data and analytics, he said, and this, combined with RSA's technical expertise, local knowledge and strong relationships has created a truly symbiotic partnership.
"We're working out how we can collaborate," he said. "Looking, for instance, at our refresh of SME they're hugely successful in SME in North America so there is lots we can learn from each other… And we have in our London Market business, but also across Europe, some strong specialty propositions in terms of marine, construction, engineering, renewable energy. And so, we're working on a collaborative model so that we can get a single line of sight of all [global] trends. It's a case of finding our way together and I really feel there's definitely some Intact rocket fuel that we can inject into the RSA business."
Going forward, Gibbs said, he has been delighted by the progress of the commercial lines business, of its ability to put the customer at the heart of what it does and its ambition of letting its people shine in the marketplace. It's a great platform, he said, and its remediation phase has reminded the market of RSA's unique proposition and the strength its people bring to the business.
"I couldn't be prouder of what we've achieved in the last two years," he said. "[It's about] people and partnerships. If you focus on your people and your customers, and you get the business aligned around a strategy, which, for me is about the best propositions for our customers and a balanced portfolio, then I think that 1,300 people facing the same way is a pretty unstoppable force."