Why we have a duty to win the war for talent in the insurance sector | Insurance Business UK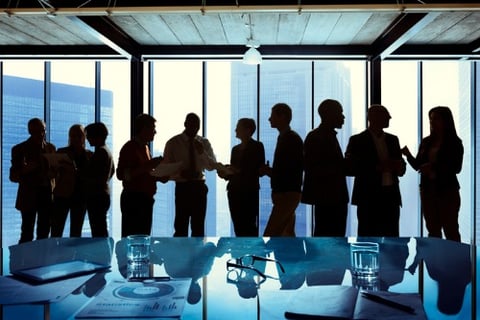 Richard Pitt, Chief Network Officer at Broker Network, believes there's never been a more exciting time for young people to choose the insurance sector.
The broking community has a fundamental issue it needs to resolve. Stuart Randall, when interviewed by the Insurance Times, said, "I believe that 60% of brokers are in the final quarter of their lives." If we want our industry to flourish and to meet the ever changing needs of our customer, then it's critical to find and foster the insurance broking leaders of tomorrow.
Insurers have great schemes available for graduates, but only take a limited number into these trainee programmes. But I believe there is an opportunity the industry as a whole is missing in terms of making use of the enthusiasm and skills offered by the applicants who don't quite make it. At Broker Network, we have members in virtually every town and city across the UK. By working together with our insurer partners, there is an amazing opportunity for these talented individuals to forge their career within broking, rather than having to start again in a different sector.
Broking offers a unique opportunity
People often say that insurance isn't attractive as a career, but there's an incredibly enticing proposition on offer for ambitious people within the world of broking. There are only six life-stages within broking and when the owner reaches a certain age many believe that the natural progression is for them to look to sell. However, many ageing principals are not looking to sell, because owning a brokerage funds an amazing lifestyle. There are many examples where the business owner is in their mid-sixties and seventies and is still keen to continue to keep hold of the business because it generates an income that supports their way of life.
With that in mind, these owners are looking for someone to come on board and take the reins of the running of the business. At the moment there is a lack of people coming through with the right skills and talent to take this on, which means that those who do apply themselves to this route could find themselves in a very fortunate position indeed. Young people who are interested in running their own business can work towards this without taking on a whole load of risk. These new leaders will play a massive role in the future of the industry, in a way that they can't in almost any other sector – it's unique to broking.
Our industry bodies must lead from the front
Broking is an incredibly compelling career option but we need to spend more time telling its story. As a broker, you remain close to the end customer, putting you in control of the relationship. This is a completely different experience to working at an insurer or MGA, where essentially you're working as an intermediary. It's easy to differentiate yourself in a sea of mediocrity and really stand out from the crowd. In short, if you want to be in control of your own destiny, be a broker.
The opportunities are there – all we need is people prepared to take on the challenge. But how do we go about attracting fresh talent?
My question to our industry bodies is, what are we doing to bring that passion, excitement and enjoyment to the fore, and really communicate it to young people? Broking offers an amazing lifestyle with the opportunity to make huge financial gains, more so than in MGAs, insurers or anywhere else within the industry.
What can brokers do?
By considering the way they recruit, brokers have a role to play, too.
If you know the best practices, recruitment can be really easy. The problem is that most people consider the role of recruitment as a part time job while also running their business. All too often people recruit when a vacancy comes around and that's too late. You end up recruiting from a pool of mediocrity, people that are available, not from a pool of top talent that you've been working on all year. It's critically important to get recruitment right. Your people are your biggest asset, so someone in your business needs to own the 'collection of talent' in the same way that you have someone that owns winning new business.
People often recruit at the wrong level; either like for like, or too senior, which is high risk and costly if it goes wrong. By recruiting at a more junior level, you can effectively free up time for your best staff to progress into more senior positions, while also allowing development opportunities for your new junior executives. Develop these juniors, treat them as your top talent, and regularly offer small salary increments. If you look after them, you've got a good chance of keeping them long term and helping them to develop into experts in their field – and possibly even successors in the making.
Recruiting capable talent into your business also leads to a whole host of benefits. You'll probably notice that your culture changes for the better. It's low risk, and low cost to recruit for junior roles, plus it creates the capacity for more workload for your more senior executives. It's also easier to generate the income to cover the cost of a junior than it is to cover a senior role.
My advice is to recruit for attitude and train for skill. And remember, you can find talent everywhere. Every interaction I have, I question whether I would employ that person and whether I want them in my business, whether that's at an institute dinner or at a coffee bar.
If you do fail with a recruit, then fail quickly. If someone isn't up to the job, then ship them out and move on to the next. Don't stop just because you recruited a dud, no-one gets it right all the time.
How networks can help
Alongside the opportunity to put brokers in touch with keen graduates as I mentioned earlier, there is a great deal that networks can do in terms of helping brokers to find and develop talent. By supporting with training, recruitment best practice and championing young entrepreneurs, there is a lot we can do to make a difference.
Ultimately, supporting with knowledge and skills development is easy. What we need to do is focus on recruiting at the right level, and making young people as excited as us about what the broking world can offer to ensure that we find the leaders of tomorrow.