Workforce planning – what makes the workforce of the future? | Insurance Business UK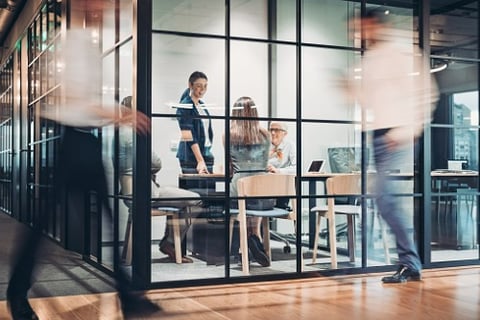 The future of work is on the minds of organisations and individuals across every industry sector, but it would be disingenuous to attribute this solely to the turbulence of the COVID-19 crisis. For as noted by Chris Simson, group HR director at Munich Re Specialty Group, the spotlight on people wellbeing and the skills required to match changing job roles across the profession was brightening even before COVID hit.
Rather, what COVID has done is catapult those companies that have been considering these factors into the next stage of working towards what this means on a practical basis. Before the pandemic, Simson said, Munich Re Specialty Group had formed a culture committee to push the voice of the employee across every division of the organisation. This ongoing project has been developed from the ground up and is presided over by a steering committee.
Read more: Andy Fairchild on embracing the future of work
"In many cases, these are the individuals who will live with the decisions this project makes for the future," he said. "So, what better way to get them involved and part of that decision-making process? And our project was not primarily focused on just putting together work from home or a hybrid working policy – though we did do that, and it started prior to COVID. But it was also about culture, about the workplace of the future and what that should look like and how we should get the best use of that.
"The most important piece to me around this project is that we started to work a lot on what we call the workforce – that is exploring the skills and the roles of the future, and how the world will look in the next three-to-five years. So, it meant seeing how we can make sure that we're prepared for that, beyond just a flexible working policy, and around the skills, abilities, competencies, and roles to move that forward."
Read more: Cigna Europe CEO on the demand for holistic wellbeing solutions
The study unearthed some interesting challenges that the profession will see going forward, Simson said, especially when it comes to developing individuals. For instance, how can organisations ensure a strong culture when they include people who may have never stepped foot in their offices before? For a group such as Munich Re, which prides itself on its strong culture, such a question is of special relevance. Other challenges include how new staff can take advantage of training and mentoring opportunities and how junior staff, in particular, can build the strong industry relationships required to thrive in an insurance career.
Running in conjunction with such challenges, however, is the opportunity that lies ahead for those forward-thinking companies who are putting the work into getting that cultural-fit piece right. Those insurance groups, including Munich Re, he said, which have enjoyed strong financial results in the last year or so, have the psychological and financial security required to try out new endeavours, buoyed by the knowledge that they can always pivot back if they need to.
As an example of how the group has embraced the opportunity to try out new things, Simson highlighted how one of its Munich-based offices had recently been remodelled to offer a more collaborative workspace to staff. He noted that he has been fascinated to see the impact this has had on people's interactivity and willingness to rework themselves into groups.
"There's always been this view of these self-driven teams or self-forming teams," he said, "and this is the first time I'm actually seeing it happen more dynamically. Innovation is starting more naturally and while, I wouldn't say it's just because we've built a new, more slick building, I do think that has helped support that effect a lot. People are now more naturally coming together in an environment that's not so stuffy as it has been traditionally and you can see that in the enhanced capacity for new conversations, for 'what if?' conversations."
From a talent attraction perspective, the increased collaboration is an effective way of showcasing the strong culture of a business and its focus on doing the right thing for every stakeholder involved. When collaboration and energy are high, he said, you can really feel that on every level - and if the insurance profession can harness and market that to a broader group of candidates, then it will go a long way to offsetting how insurance is viewed outside of the profession.
Read more: AXA's Zoe Ashdown on how to build an authentic culture
While Munich Re Specialty Group's project is still ongoing and evolving all the time, Simson said, it has offered him and his team substantial insights into what it means to revamp the proposition of an organisation and he has several key recommendations for other companies looking to do the same.
"It may sound obvious," he said, "but let's not be afraid of change. Because it's coming, it's here, and tomorrow it will change again so we need to be much more comfortable embracing change. Also, you have to go out there and get the input from your employees, get the input from your customers and do a 360-degree analysis when you're designing a change. Because it's going to have an impact on all of them in some way, shape or form. And to me, the best way to enact change is to get people involved but don't limit that just to a traditional group."
Also, don't be afraid to take a path you may have to retreat from, he said, because not every suggestion is perfect and not every idea will land. The point is not to be afraid of failure but to establish why something failed and learn from that. In addition, not every change needs to be a huge financial investment, instead, businesses should establish what they are prioritising right now and examine where resources would be better placed to aid their current strategic objectives.
"At Munich Re Specialty Group, we're not finished walking the path of cultural change but the most important thing is that the leadership team believe in it. They talk the talk and walk the walk because it's so important to them," he said. "So, make sure you dedicate time to this, and if you're not getting the time to do it, then really think about whether or not your business is serious about this."