Andy Fairchild on embracing the future of work | Insurance Business UK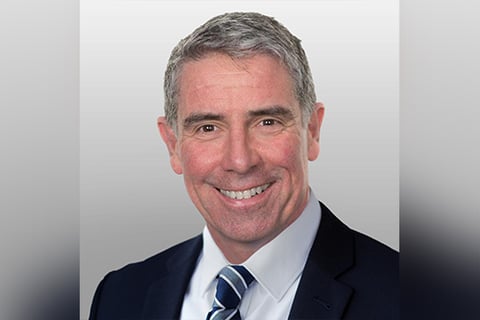 Following the news of the recent government vote taking England into the same locked down state as the rest of the UK and the Republic of Ireland, business leaders are again being called on to provide guidance and support to their staff and colleagues. The prospect of another lockdown stretching into the dark winter months is daunting and comes with the additional challenge of businesses being expected to be better prepared this time around.
For Andy Fairchild (pictured), the CEO of Applied Systems Europe, the pandemic has been a unique challenge as he had only been in the role three weeks before he found himself relegated to his kitchen, where he has remained since. Speaking to Team Applied to discuss the 'Digital Path Forward' he sent his best wishes to all the team for their continued health and safety during the crisis and wished all impacted by the COVID-19 pandemic a speedy recovery.
Find out more: Learn everything you need to know about Applied Systems here
"As we continue our remote operations, it is impossible not to reflect on how the COVID-19 outbreak has fundamentally changed the global economy and the way we work at a stunning pace. Seemingly overnight, the pandemic shifted office-based teams to remote workforces, testing the resilience of our work tools, critical infrastructure and capabilities to interact with and support each other and our customers.
"And through all the uncertainty created by this extraordinary disruption, there have been inspiring moments of individual and collective strength and perseverance that have resulted in a successful – even if unplanned – test in remote working."
Read more: Andy Fairchild on how brokers have shaped strategic focus
Fairchild paid tribute to the fortitude Team Applied has shown in supporting one another while staying committed to their customers' success during the pandemic. He highlighted that the business quickly recognised the need for its clients to manage their operations differently and the activation of several initiatives to help clients navigate the new, remote reality helped support their operations. With no end in sight for remote working, these services are now more essential than ever.
"As the crisis has evolved, we have continued to grow our COVID-19 Resource Hub – with content covering business continuity guides, technology tools and business management tips – to provide a central source of information to help you navigate the growing business and employee experience implications," he explained.
This hub provides customers with a single access point to find:
Tips on using technology to better manage business remotely and stay connected with customers.
Best practices to optimise workflows to maximise employee productivity.
Other educational resources to keep staff engaged and use systems effectively.
The future of work
It's impossible to predict what the future of work might look like, Fairchild noted, speaking at the Applied Net Europe event on 'Our Digital Path Forward' but, from his perspective, it seems clear that the way people work has changed for good.
Read more: Applied Systems reveals the eight key technology adoption trends among UK brokers
Two key things have changed. Firstly, reliance on technology has never been stronger and developments such as the move to the cloud have been accelerated in a way that is completely unprecedented. The second major change has been how happy most people are to interact digitally now.
"There's been a real realisation that, facilitated by tech, you can actually have some pretty human interactions," he said. "And I think we've all learned how to look after each other, each other's mental health, each other's emotional wellbeing in a remote environment, and I don't think that will go away easily.
"We are realising that it's OK to interact with people in the way that we are, and not just spend all of our time working from A to Z on an agenda. I think that's changed for good, and people will jump on a Zoom call a little easier than jumping on a train going forward."
Planning for the next chapter
Planning for the next chapter is not easy while so much uncertainty abounds but the business continuity plan of Applied Systems Europe has been designed with flexibility in mind to navigate the daily changes brought about by the pandemic. While the formal framework for reopening offices gradually and safely, is being developed, the business is taking every necessary precaution in line with criteria from government entities and public health officials.
Among Applied's guiding principles are:
"Protecting our greatest asset". Team Applied is what makes the business great and will continue to be the business's number one priority going forward.
"Focusing on the facts". With so much information emerging about the virus and the best ways to mitigate the risks it brings, Applied will focus on utilising relevant content to act as guideposts as it moves forward.
"Creating clarity and maintaining transparency". All plans and responsibilities for the business's employees, customers and the broader company will be clear and well-communicated and feedback loops will be kept open to ensure leadership has its finger on the pulse of the needs of the organisation and its customers.
Find out more: Learn everything you need to know about Applied Systems here.