Examining the role of brokers in evolving cyber insurance products | Insurance Business UK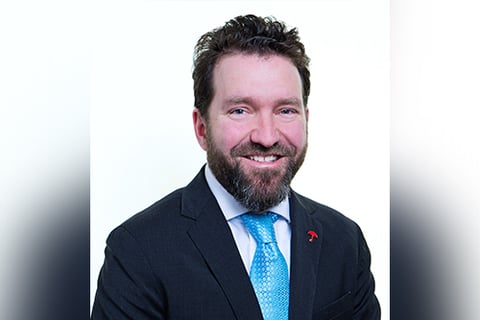 The UK Government recently released its Cyber Security Breaches Survey for 2020, the findings of which highlighted that the majority of UK businesses are still not insured against cyber risks. Among the key insights gained from this report is that the rate of uptake of cyber insurance policies for SME-level companies is not only critically low at 14% but also that this has improved relatively little since last year's report.
The role of increasing cyber uptake for businesses comes down to a joint partnership between insurers and brokers according to Davis Kessler (pictured above), the head of cyber at Travelers Europe. From speaking with brokers, Kessler has seen that what they need most from the insurers they work with is assistance in proving where a cyber policy can be beneficial to the insured.
Read more: Travelers reveals how its enhanced cyber product came about
"If you or one of your close peers has not yet had a cyber security incident then it is harder to realise the multitude of benefits that a cyber policy carries," he noted. "Over 40% of companies have reported an attack in the last 12 months and that number keeps creeping up, year on year. It's increasingly likely that even a well-prepared firm will have some sort of incident. If you're prepared for it, you can reduce the chance, but we've seen plenty of companies that are well prepared and get hit nonetheless. It's not just about prevention, but resiliency and being prepared to successfully come through an incident if it does occur."
Whereas traditional property, business interruption or fire or flood policies have established market language and wordings, cyber policies are still very new, and every policy is different. Even where two insurers mean to cover the same thing, a cyber policy is still going to be different from one carrier to the next. Therefore, brokers need to be confident with what those coverages entail when they're talking to their customers.
"I feel for brokers when they need to read a dozen or more market's policies and understand them all, and to make sure they are fitting all their clients' needs," he said. "And this is on top of everything else that they need to sell and advise their clients on. So, anything that can help brokers explain to their clients what is covered is beneficial. This is absolutely the case for SME clients but, even with larger firms, it is not a done deal that they are convinced of the need to buy cyber yet. Brokers working with larger accounts, therefore, would also like this assistance in proving a cyber insurance policy's worth."
There are several ways that the insurance market can seek to provide this expertise and information to brokers and the one which Travelers has found the most effective is that of claim examples. These examples are put together for brokers to use to highlight to their clients how the cyber policy proposition operates as a complete journey.
Everybody responds well to seeing an actual live claim example which can provide practical information on how an attack occurred and what happened after the attack. These examples walk through not just the incident but also the solution, examining how the policy responded, and how the breach response side of the proposition reacted. Finally, these claims examples detail how quickly vendors managed to enter the breached systems and whether they were able to stop the attack, as well as how the policy enabled the client to get back up and running again.
Further complicating matters for both brokers and the clients that they serve is the amount and complexity of the jargon that exists within cyber insurance policies. The industry is slowly starting to coalesce around certain terminology, but there is still a long way to go. For Travelers, when creating its new cyber proposition, one of the key undertakings was to simplify the wording involved to the highest extent possible. With 22 insuring clauses, Kessler noted that this was always going to be a lengthy policy with lots of definitions and that there is simply no way to avoid that.
"We're trying to take what is admittedly a very complicated product and distil that down to understandable scenarios in terms of what coverage and response is provided," he said.
Cyber is an ever-changing landscape and the coronavirus pandemic has highlighted the capacity of a non-cyber event to impact cyber security. The difficulty associated with this is trying to make sure that brokers are given the most up-to-date and relevant information. To enable this, Kessler outlined how Travelers has partnered with several experts as a means of combatting the pace of change that occurs within this sphere and of keeping all necessary partners in the loop.
"We're always trying to keep our brokers in the know so that they can add that value to their customer. And partnering with the right firm is a key means of keeping our insureds and broker partners up to date and of giving them the risk management tools that they need."
To discover more about Travelers' cyber partnerships, please visit the Travelers website.