Travelers reveals how its enhanced cyber product came about | Insurance Business UK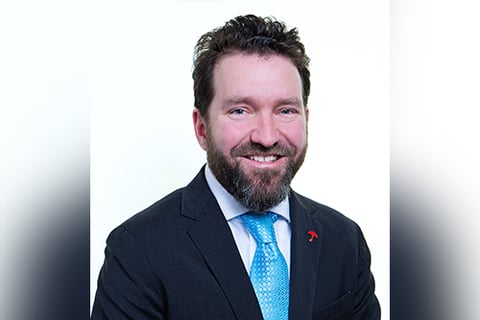 What's new in the world of cyber? For those working within the sector, standing still means being overtaken. For Davis Kessler (pictured), the head of cyber for Travelers Europe, building the next generation of cyber policies has meant being hyper aware of how the external environment is evolving. The enhanced cyber product that Travelers has brought to the market has been developed by both reacting to what is changing in this environment, and also responding to what brokers are asking for from their insurer partners.
Speaking with brokers has granted Kessler a comprehensive overview of the most significant challenges in promoting an understanding of the complex and ever-changing cyber security sector. Brokers want to know how to emphasise the value of a cyber policy and they want to offer their clients more employee training to help with the practical utilisation of this understanding. By making a number of enhancements to the current CyberRisk product offering, Travelers is aiming to help businesses prepare for and overcome the ever-increasing cyber challenges they face.
Read more: Travelers lead on limiting cyber exposure in light of the coronavirus pandemic
This CyberRisk product enhancement has been implemented with a dual approach – introducing new coverages offered on the wordings side and making available a suite of cyber resilience risk management tools. On the wordings side, four new coverages will be introduced including the covering of social engineering fraud as standard, and a related coverage called 'vendor and client payment fraud,' covering amounts due to the insured when, following a security breach, their vendor or client is duped by a criminal thinking they have received an instruction from the insured . Additionally, Travelers is adding a reputation harm coverage to cover lost business income due to damage to reputation caused by a privacy or security breach.
The final new coverage being added to this CyberRisk product update is a 'betterment' offering that is pretty unique in the cyber marketplace, Kessler said, and which covers the cost of improving an insured's system security following a breach. The term itself is not new, with betterment generally recognised as a concept wherein, following a cyber event, the software will be updated in the cases where the previous version is no longer available. Travelers goes further, however.
"In this latest version, our policy will actually provide the insured with entirely brand new software or hardware if, following a breach, it was determined that it would have helped prevent or mitigate that breach from happening in the first place, or if it will help prevent a similar event from happening again," said Kessler. "And it doesn't have to be an upgraded version of something that the insured already had, it could be an entirely new type of security software."
Kessler is especially excited to introduce this betterment coverage across Travelers Europe as it represents an opportunity to offer genuine improvements to the cyber security systems of the insured, and to potentially mitigate against another loss.
The business is also seeking to support its clients through the addition of several new business interruption triggers including system failure and a voluntary shutdown trigger. Among other enhancements, the excess will now also be waived for firms under £/€50 million turnover if notification of a breach is reported within 72 hours of its discovery.
The risk management side of this product enhancement was brought on in part by the demand that Travelers has seen from its broker partners to provide educational support and guidance to help them and their clients navigate this complex product and environment. Through its partnership with NetDiligence, Travelers has developed its eRisk Hub© where insureds and brokers can find up-to-date cyber news, incidence response plans, claims examples, whitepapers and employee training guides, among other tools.
Another consistent request from broker partners has been for substantially more risk management assistance, such as employee training. This has been heard and actioned in the form of Travelers' partnership with Symantec which will offer insureds access to a series of cyber resiliency tools. This begins with the availability of a self-assessment, that will identify the weaknesses in the cyber security of those evaluated and also how these can be improved.
"Importantly, all of our insureds will also have a one-hour consultation with a security professional at Symantec," said Kessler. "This can be at any time and doesn't necessarily have to be in connection with the assessment but we would recommend that our insureds complete the assessment first and then you can use that consultation to walk through the assessment and receive some personalised advice on how to implement the changes or suggestions made."
A series of employee training modules will be made available through this partnership and businesses can register all their employees to complete this training. Importantly, the modules will be offered on a cloud-based learning management system, allowing businesses to be able to keep track as employees complete each module and monitor how the overall training is going. This is demonstrably more effective than simply asking employees to watch a video as it engages them with the task at hand and provides a real opportunity for them to practically improve their cyber security competence.
"We're excited to offer these enhancements," Kessler said. "While the coverage is broadening, we anticipate the risk management tools will help increase the security posture of our insureds. We listened to what brokers and their clients were asking for and believe we have delivered. We're looking forward to working with our broker partners to further increase the uptake of cyber insurance policies, which will only become more critical as the world becomes increasingly electronically connected."
To find out more about this enhanced product offering, please visit the Travelers website.