Insurance Rebellion strikes again | Insurance Business UK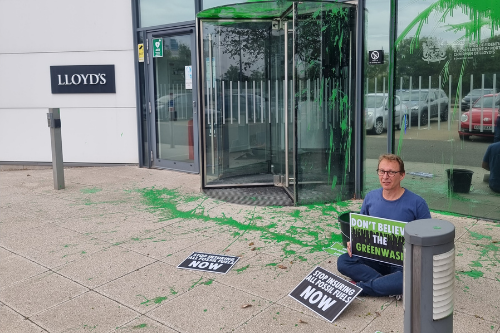 Image credit: Insurance Rebellion
Kent resident and Insurance Rebellion activist Rich Eyre (pictured) has been arrested after throwing green paint over the Lloyd's premises in Chatham on Tuesday.
The local's move marked the first time Insurance Rebellion vandalised Lloyd's outside of London in the name of climate lobbying. Last week, a similar scenario took place at the iconic inside-out building on Lime Street.
Read more: Lloyd's HQ targeted by protesters
"Lloyd's recently published sustainability strategy merely asks their members to stop insuring thermal coal, tar sands, and Arctic exploration," asserted Eyre. "Just asking their members to stop is not good enough and amounts to nothing more than greenwashing.
"It allows projects such as the Adani coal mine in Australia, the Alberta tar sands pipeline in Canada, and the West Cumbria coal mine in the UK to carry on with business as usual."
The activist, before being arrested, said Lloyd's has it in the insurance marketplace's power to stop supposedly facilitating the world's "biggest climate wrecking projects" now.