Prince Charles: "I am enormously grateful to the ABI and its members" | Insurance Business UK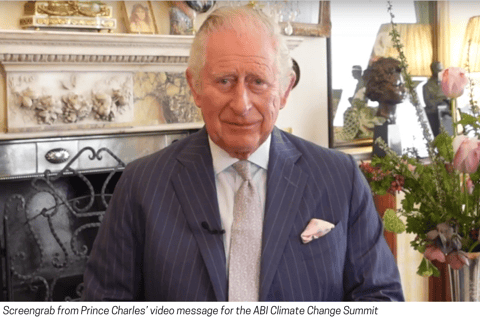 His Royal Highness the Prince of Wales has expressed his gratitude for what the Association of British Insurers (ABI) has been doing towards achieving net zero.
In a recorded video message played during this week's ABI Climate Change Summit, Prince Charles told attendees: "There can be no more important topic of conversation certainly for insurers. And as many of you may have possibly noticed by now, I have been trying for over 40 years to draw urgent attention to the accelerating twin crises of climate change and biodiversity loss.
"It is why I launched the Sustainable Markets Initiative last year under the mandate of the Terra Carta, and why back in 2007 I urged the ABI to establish what in the end became the ClimateWise programme. So, I am enormously grateful to the ABI and its members for being a founding and active member of the programme, and for their support of this global project."
It was at Wednesday's event that the trade body unveiled its updated climate change roadmap, which the Prince commended for its excellence.
He stated: "I can only call on every individual and every firm in this sector to take action in the four areas set out in the ABI's own excellent roadmap. First of all, committing to science-based targets and publishing transition plans. Second, unlocking your enormous power as institutional investors who could accelerate the transition to renewable forms of energy.
"Third, making the billions you spend in supply chains conditional on positive action by all suppliers. And, finally, helping society adapt – whether that is through building back better with more flood-resilient repairs to homes or sustainable vehicle parts after claims, or innovating with products that address climate change."
Prince Charles asserted that climate change can only be tackled through coordinated and unified action, adding that member organisations like the ABI, given their convening powers, are so vitally important.
"The long-term savings and insurance sector is committed to playing a central part in the race to net zero – but we need to take the handbrake off," declared Phoenix Group boss Andy Briggs, who chairs the ABI board's climate change committee. "There is no time to spare in making the changes needed which can unlock the once-in-a-lifetime opportunity to drive investment which can cut emissions and deliver growth across the country.
"Meaningful reform to investment frameworks and the regulatory regime, including Solvency II, is essential if our sector is to turbocharge investment in the green infrastructure that we urgently need. If we can get those structures in place – supported by better planning systems, transparent data, and clearer climate change policies – we can put our foot even harder on the throttle."
It was highlighted that the UK's general insurance and long-term savings industry is making significant progress in setting transparent net zero targets and joining the 'race to zero' campaign of the United Nations.