FloodFlash sees rush of investments in seed round | Insurance Business UK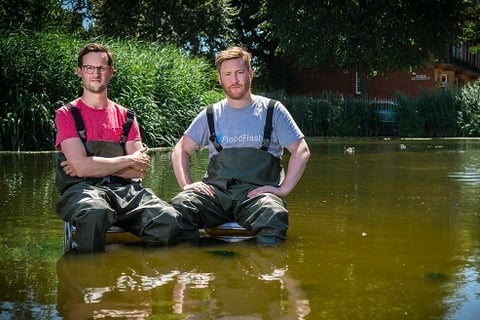 London-based insurtech FloodFlash, which aims to bring parametric or event-based insurance to everyone, has raised £1.9 million in seed funding.
Established in 2017, the start-up is developing a sensor-based product designed to enable fairly-priced, no-exclusions, and instant-settlement flood insurance. Proceeds of the financing round, which was co-led by LocalGlobe and Pentech Ventures, will accelerate FloodFlash's product launch across the UK.
InsurTech Gateway also participated to provide further backing, on top of its initial investment. Stephen Brittain, co-founder and director of the incubator, believes FloodFlash's offering will revolutionise the sale of flood insurance.
"We are delighted to have had the opportunity to fast-track the company through the early stages of concept definition and funding rounds to ready it for scaling," commented Brittain.
Regulated by the Financial Conduct Authority, FloodFlash is currently carrying out a live pilot for its policies with a select group of small- and medium-sized enterprises in parts of the country with significant flood risk. The idea is to provide customers with a pre-agreed settlement as soon as the internet-connected sensor detects that waters have exceeded critical depth.
"Every year tens of thousands of business owners lose their livelihoods because they have been unable to take out an affordable policy that protects their business," noted FloodFlash co-founder Adam Rimmer (pictured, right). "In the immediate aftermath of a catastrophic flood, people care less about dollar-for-dollar reimbursement for damages and more about whether their business will survive at all.
"We want to make the world more resilient to catastrophic events, and we believe FloodFlash's event-based insurance is absolutely the best way for insurers to cover higher-risk areas."
Insurance capacity for the start-up's policies is provided by Everest Re through its Lloyd's of London syndicate.
"The efficiencies in the technology that we have developed make FloodFlash policies available to those who need it most," added co-founder Ian Bartholomew (pictured, left). "The FloodFlash sensor and high-resolution pricing algorithms are essential parts of that. We think that by pricing risk in this way, and by promising instant settlement, we can help to resolve what is arguably the largest market failure in insurance."
Related stories:
What is parametric insurance?
End of Flood Re to usher in affordable insurance?