Government invests an additional £170m in flood defences | Insurance Business UK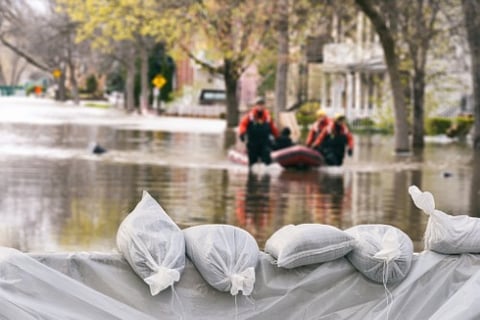 The government has revealed that it is allocating an addition £170 million to "shovel-ready" flood defence projects across England, according to Sky News. The funding, alongside an initial £5.2 billion investment, will help in the construction of 2,000 flood and coastal defences that will protect 336,000 properties by 2027.
The government reported that the £170 million package will go towards 22 projects that include a flood prevention scheme in Leeds to protect more than 370 businesses, natural flood management to reduce the flow of rainwater into the River Aire in Yorkshire, and tidal barrier and flood walls in Lowestoft and on the Suffolk coast to defend key infrastructure and businesses, along with many other projects.
Read more: Government announces flood insurance review 2020
Environment Secretary George Eustice commented: "The devastating impacts of last winter's flooding were an important reminder of the need to continue to invest and accelerate action to reduce the impact of flooding on our communities. Our record investment and ambitious policies will better protect homes, schools, hospitals and businesses, but we also recognise that we cannot prevent flooding entirely, which is why we will ensure that communities at high risk are more resilient."
The announcement also proposes changes to the government and insurance industry Flood Re scheme, such as cheaper premiums for homes that have protection measures in place.
Flood Re said in a press release that it welcomes the investment announcement by the government as it tackles the risks of flooding and coastal erosion, calling it a "necessary step towards building flood resilience and mitigating the impact of climate change."
Flood Re added that it is also in favour of the specific changes to the scheme as proposed in Flood Re's Quinquennial Review (QQR) published in July 2019. These developments will allow Flood Re to offer discounted premiums to households that have fitted flood resilience measures to their property, and permit the payment of claims to include an additional amount to Build Back Better.
Read more: ABI: 'Extending Flood Re is the wrong answer'
According to Flood Re, the amendments will make the scheme more effective and efficient, and will assist in its transition out of the market by 2039.
"I welcome the government's commitment today to making the nation more resilient to future flooding," said Andy Bord, chief executive of Flood Re. "Flood Re enables access to affordable insurance for hundreds of thousands of homes at high risk of flooding. We believe it is very important that the country is built back better and making homes more resilient through the uptake of property flood resilience adaptations is a key part of addressing the increasing threat of flooding resulting from climate change."